Welcome to Northwood Worcester
Why choose Northwood Worcester Lettings & Estate Agents?
Our estate and lettings business is all about matching people with property and we have had the privilege of helping 100's do just that locally across Worcestershire, since 2003.
We understand that when property owners and tenants need the services of a letting or estate agent, it is often at a time when they have big life choices and changes going on. For most owners, a house or a flat is often their largest single financial asset. For most occupiers, a rental property is not just bricks and mortar but somewhere that is to become their home, where memories will be made, making it one of the most important places in which to feel comfortable and happy.
Our team of letting and estate agents in Worcester is customer-focused, not commission orientated and we are proud to have received Awards in recognition of our professional, personal and friendly customer service in action.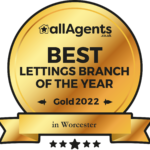 We feel there is no better advert for our business than the views of customers and clients who have already had experience of how we do things and are willing to share their opinions and recommend us to others. See what our customers are saying about us by clicking HERE.
Our office of estate and letting agents may be located in the centre of Worcester, but we also have our finger on the property pulse of Malvern, Evesham, Pershore and Droitwich. We are an independent business, within a national chain across the UK, so whether you are letting or renting, buying or selling property, our team is here to help.