It is the scariest time of the year, All Hallows Eve, or as we more often refer to it, Halloween! Time for trick or treating, scary costumes and fun spooky parties. If you are going all out this year and looking to create your own version of a creepy crypt, then we have got some top Halloween home decorating tips to share with you.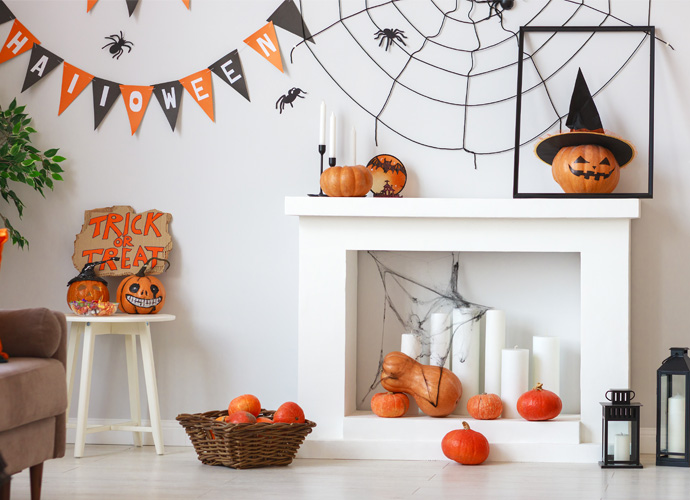 Outside
First impressions count and whether you are hosting a party or just want to delight the neighbourhood children, your outside decorations are going to set the tone!
Pumpkin – Of course, there has to be a Pumpkin outside, is it even Halloween without one? If you are lacking in inspiration and want your pumpkin to stand out from the crowd then head over to Housebeautiful.com they have got a wealth of pumpkin carving ideas from cute kittens and Mickey Mouse, to a very cool Death Star and RV design, as well as a lot of next level scary ideas, like the "Impaled Fence Pumpkins".
Flying Skeleton – I don't know about you, but this Flying Skeleton from the Range would be scary enough in the daytime, never mind at night! The eyes glow red and the mouth moves as it says, "Enjoy it, it maybe your last chance". Nope I'm out of here!
Danger Signs and Witches Legs – The guys over at partydelights.co.uk have gone all out for Halloween, browsing through their outdoor decorations we loved the Cemetery "Danger" signs and the witches legs.
Inside Halloween Decorations
Now we have given your visitors and initial fright, it is time to take a look a what horrific wonders are available for inside our homes. Here are a few of our favourite picks from the bounty on offer.
Ceramic Pumpkins – they are everywhere this year. These cute ceramic pumpkins from B&M come in 3x gorgeous colours and can be used year after year.
Hanging Clown – for some people there is nothing more scary than a clown. This black and white hanging clown from Asda is bound to leave your guests absolutely terrified!
Halloween Swirl Foil Decorations – These foil swirls hang from the ceiling and come in a pack of 5 from Wilko. Super effective and a great theme setting idea to help get your home Halloween ready.
Fairy Light Wire Pumpkin – We couldn't resist including this beautiful fairy light wire pumpkin available from Etsy. Not in the least bit scary, but it is very pretty.
Animated Witch – this 1.8m tall, cackling Witch from lights4fun.co.uk reacts to the slightest sound. She moves and cackles and quite frankly is going to give the entire household nightmares – perfect!
Homemade Ideas
It is amazing what you can accomplish with a supply of cotton wool, cheese cloth and some card. If you want to get hands on with making your decorations this year, here are a few of the fabulous DIY decoration ideas we found when scouring the web.
Mummy Tealight Holders – Mason jars wrapped in bandages, googly stick on eyes and a tealight. Make 3 of varying sizes for an effective table or mantle display. When creating this scary centre piece, make sure the jar is tall enough so that the flame from the tealight does not reach the bandages. Better still consider using a battery operated tealight.
Bin Bag Spider Webs – This is a very quick and easy way to create large spider webs suitable for decorating inside or out. All you need are some bin bags, scissors and some tape to hold the bag together as you cut. Check out the video tutorial fastforwardfun.com
Shrunken Heads – These way too realistic shrunken heads are made from apples and a few accessories. Simply peel the centre of your apples, leaving skin on the top and bottom areas. Carve the facial features onto each of your shrunken head, dry in the oven, and add your finishing touches. Use staples over the mouth and glue in beads for the eyes, finally impale on a wooden skewer and display your gruesome creations! Watch the Shrunken head video tutorial on Youtube.
Scary Touches
Sometimes less is more and that rings true for a few of these scary touches. Simple ways to make people look twice!
Cockroach Hand Soap – Scare visitors to the loo by adding some toy cockroaches to the hand soap. See this idea on Pinterest.
Mice Infested Pumpkins – Bore lots of holes in your pumpkin and artfully arrange toy mice so that they are coming and going and even sitting on top of the pumpkin, a very effective look! Here's what it could look like!
The Flowers Are Watching You – This idea works particularly well in an existing floral display, simply add toy eyeballs to the centre of faux flowers for a very eerie effect. See this Halloween idea on Pinterest.
There you have it, this year's top Halloween home decorating tips. If you have got some you would like to share with us pop on over to our Facebook page and post your top Halloween home decorating tips. From all of us at Northwood we wish you a very Happy Halloween! Have fun!