Maidenhead, a charming town nestled in the heart of Berkshire, is one of the South East's hidden jewels. This English town harmoniously combines both its rich past and a thriving present, offering residents and visitors an enviable mix of history, culture, and modernity.
Strategically positioned along the banks of the River Thames, Maidenhead's history has always been intertwined with this iconic waterway. Once an important river crossing point, the town grew around this nexus of activity. The Maidenhead Bridge, a Georgian architectural marvel built in 1777, is emblematic of the town's historical connection to the Thames. As you stroll along the riverbank, the elegant silhouette of the bridge juxtaposed against the gentle waters offers a picturesque view that captures the essence of Maidenhead's beauty.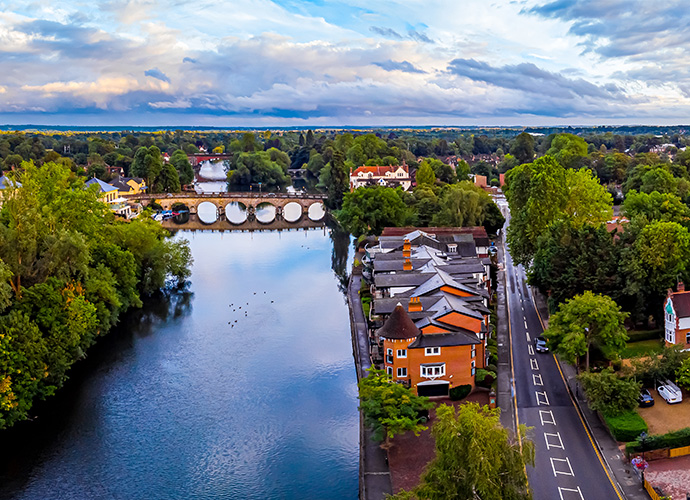 Culturally, Maidenhead is a vibrant hotspot. The town has birthed and inspired artists, writers, and notable figures, many of whom have celebrated its beauty and ethos in their works. Maidenhead's cultural scene is still alive and kicking, with a plethora of events, art shows, and music festivals taking place throughout the year, catering to diverse tastes.
With its unique blend of history, culture, and natural beauty, Maidenhead is more than just a town in Berkshire; it's a living testament to England's rich tapestry of past and present. Whether you're a history buff, an art enthusiast, or someone looking for a serene escape, Maidenhead has something to offer for every discerning palate.
Modern Maidenhead: A Fusion of Progress and Tradition
As you journey through the historic lanes of Maidenhead, it's hard not to notice its seamless transition from a quintessentially English town into a modern urban centre. Today's Maidenhead is a testament to how tradition and modernity can coexist harmoniously.
Economic Evolution
One of the standout features of modern Maidenhead is its economic resilience and dynamism. The town, once primarily known for its riverside trade and agriculture, has emerged as a leading business hub in the region. It's home to the UK headquarters of several multinational corporations. The modern office buildings, technology parks, and business centres that dot its landscape stand as silent yet powerful witnesses to its economic evolution.
Technological Transformation
With the advent of the digital age, Maidenhead has positioned itself as a pivotal technological hub. Several IT and technology companies have set up base here, attracted by its strategic location and connectivity to London and other major cities. This has led to an influx of tech professionals and entrepreneurs, making Maidenhead a melting pot of innovation.
Education and Learning
While Maidenhead cherishes its historic schools and institutions, it hasn't shied away from embracing contemporary education methods and systems. Modern schools equipped with the latest technological tools, coupled with institutions offering a range of professional courses, make Maidenhead a sought-after location for families prioritising education.
Green Initiatives
Amid its urban progression, Maidenhead hasn't forgotten its commitment to the environment. Several parks have been revamped and maintained to offer residents green spaces amidst urban surroundings. The town has also seen initiatives promoting sustainable living, from eco-friendly housing projects to community-led campaigns on reducing carbon footprints.
A Cultural Mélange
Maidenhead modern outlook is also reflected in its cultural scene. Alongside traditional events celebrating its rich history, the town also hosts contemporary music festivals, art exhibitions, and international food fairs. Its theatres and arts centres showcase a blend of classic and avant-garde performances, making it a cultural hub for all ages and preferences.
Residential Revamp
Modern Maidenhead has seen significant developments in its residential sector. Elegant Victorian houses now stand side by side with contemporary apartments and townhouses, offering a range of living options. Many of these newer properties come equipped with state-of-the-art amenities, reflecting the town's modern spirit.
A Connected Town
In the age of connectivity, Maidenhead has kept pace. Upgraded transport links, efficient public transport systems, and digital connectivity initiatives ensure that residents and businesses remain connected, both physically and virtually.
Maidenhead's Transport Links: Connectivity at Its Best
When it comes to accessibility and connectivity, Maidenhead is hard to rival. Its strategic location and well-developed infrastructure make it a lynchpin for both regional and international connections. Here's a deeper dive into the transport options that bind Maidenhead to the rest of the UK and beyond.
Railways:
The Maidenhead Railway Station is not just a hub of local activity but also serves as a primary gateway to major cities.
The Elizabeth Line (Crossrail): This recent addition has transformed the way residents commute. Once fully operational, the line promises rapid, direct services to central London, the West End, the City, and even as far as Heathrow Airport, Canary Wharf, and Shenfield. With the introduction of Crossrail, Maidenhead to Central London journeys will be even quicker, making daily commuting more efficient.
Mainline Services: Direct and frequent services connect Maidenhead to London Paddington, Reading, and the West Country. With a journey to London Paddington often taking under half an hour, it's no wonder that many professionals choose Maidenhead as their home base.
Roads:
M4 Motorway: Situated just a stone's throw from Maidenhead, the M4 offers direct access to London, Reading, and even further afield to the West Country and Wales. It also provides a direct route to Heathrow Airport, which is roughly 20 minutes away by car.
A Roads: Various arterial roads, including the A4, run through or near Maidenhead, facilitating local and regional travel.
Airports:
London Heathrow Airport: Located just a short drive away, Heathrow is one of the world's busiest and most connected airports. Whether you're travelling to New York, Tokyo, or Dubai, an array of international flights is at your doorstep.
Other Nearby Airports: While Heathrow is the most proximate, residents also have relatively easy access to other airports like London Gatwick, Luton, and London City, expanding the range of available destinations.
Local Transport:
Maidenhead boasts a comprehensive network of local bus services that ensure residents can easily move around the town and its nearby areas. Several cycle routes and well-maintained footpaths encourage more sustainable modes of transport, catering to those who prefer a greener mode of commute.
Boating along the Thames
Given its riverside location, it's worth mentioning the leisurely option of travelling by boat. While not a primary mode of transport, several private boating services operate along the Thames, offering both transport and leisure cruises.
Things to Do in Maidenhead:
Whether you're a long-time resident or a first-time visitor, Maidenhead, with its eclectic mix of attractions, ensures there's never a dull moment. From its rich historical sites to modern entertainment avenues, here's a closer look at what Maidenhead has in store for its explorers.
Historical Landmarks and Museums
Maidenhead Heritage Centre: Dive into the town's rich history at this local museum. Filled with exhibits spanning from Roman times to the modern era, it's a treasure trove for history enthusiasts.
Brunel's Sounding Arch: This iconic bridge, constructed by the famous engineer Isambard Kingdom Brunel, boasts the widest brick-built arches in the world. It's a testament to Victorian engineering and a sight to behold.
Parks and Natural Reserves
Ockwells Park: A sprawling expanse of lush greenery, Ockwells offers picturesque views, well-paved pathways, and a children's play area. The historic Ockwells Manor within the park adds a touch of medieval charm to your visit.
Ray Mill Island: This tranquil island, situated between Maidenhead and Cookham, provides a serene setting for picnics, strolls, and even a chance to spot local wildlife. The beautiful sculptures and the aviary are added attractions.
Arts and Culture
Norden Farm Centre for the Arts: A hub for the arts in Maidenhead, Norden Farm offers a rich array of performances, from theatre and comedy to live music and cinema. Regular workshops ensure budding artists have a platform to hone their craft.
Maidenhead Festival: An annual summer highlight, this festival showcases live music, dance, and a parade, celebrating the town's vibrant spirit.
Sport and Leisure
Maidenhead Golf Club: Perfect for both seasoned players and newcomers, this golf club's sprawling greens promise a day of fun and sport.
Braywick Leisure Centre: With facilities including a swimming pool, gym, and sports halls, it's a popular spot for fitness enthusiasts and families alike.
Shopping and Markets
Nicholsons Shopping Centre: A central hub for shoppers, this centre boasts a mix of well-known retail brands and local boutiques.
Maidenhead Farmers' Market: Held monthly, this market is perfect for sourcing local produce, from fresh fruits and vegetables to artisanal bread and cheeses.
Eating and Drinking in Maidenhead
Maidenhead, with its rich tapestry of cultural influences, presents a culinary scene that's both diverse and delightful. From gourmet dining experiences to cosy pubs, the town ensures that your taste buds are always on an adventure.
Restaurants:
The Waterside Inn: Tucked away on the serene banks of the Thames, this three-Michelin-starred restaurant is a haven for gourmet lovers. Helmed by the legendary Roux family, the cuisine is quintessentially French, and the ambience, sheer poetry.
Masala Maiden: This restaurant celebrates the vibrant flavours of Indian cuisine. From creamy curries to fiery tandoors, the dishes promise authenticity and zest.
Sorano Italian Restaurant: Their expertly curated menu is full of authentic Italian tastes and traditional dishes.
Pubs and Bars:
The Maiden's Head: Steeped in history, this traditional pub boasts classic wooden interiors and a selection of local ales. Perfect for a cosy evening, it also offers a menu filled with British favourites.
Off The Tap: A paradise for beer enthusiasts, this venue offers an array of craft beers, ales, and ciders. The ambience is lively, making it a popular spot for locals and tourists alike.
Maidenhead Property
Maidenhead, with its strategic location and evolving socio-economic fabric, has always been a focal point for property enthusiasts. Over the years, the town has seen both periods of rapid growth and moments of stability, making its property market one of the most discussed in the South East. Let's delve deeper into what the Maidenhead property landscape looks like.
Diverse Property Types
Maidenhead boasts a rich architectural heritage, resulting in a blend of property styles. From Victorian and Edwardian homes that hark back to a bygone era, to contemporary apartments and townhouses reflecting modern living standards, the town offers a home for every taste and requirement.
Prime Residential Areas
Riverside: Properties along the Thames command premium prices not just because of the view but also the lifestyle they offer. Riverside homes, often accompanied by mooring rights, present a unique blend of luxury and leisure.
Boyn Hill & College Area: Renowned for its leafy streets and character properties, this area is ideal for families looking for spacious homes with proximity to reputed schools.
Maidenhead Centre: The heart of the town has seen considerable development in recent years. Modern flats and apartments here cater to professionals desiring amenities and transport links at their doorstep.
Property Market Dynamics
Based on recent data from home.co.uk:
Sales:

One-bed flat: The average sale price is around £237,431. Ideal for first-time buyers or investors, these flats are often in prime spots with easy access to the town's amenities.
Three-bed family home: Averaging at £593,227, these homes cater to growing families and often come with gardens and more living space.
Five-bed property: Larger properties in Maidenhead, often detached, have an average price of £1,352,734. These homes, set in prime locations, often become lifelong residences for their owners.

Rentals:

One-bed flat: Renters can expect to pay around £1,907 per month.
Three-bed family home: Monthly rentals average at £2,580, offering value for families needing more space.
Five-bed property: Luxurious and spacious, these properties command an average rent of £4,844 per month.
A Growing Investment Hub
The introduction of the Elizabeth Line (Crossrail) and Maidenhead's strengthening position as a tech hub mean that property investments are set to see promising returns. Many investors are eyeing the town for long-term growth, given its blend of connectivity, amenities, and evolving business landscape.
Whether you're a first-time buyer, a growing family, or an investor, Maidenhead's property market offers opportunities that are both diverse and promising. The town, with its blend of historical charm and modern dynamism, ensures that every property decision here is not just about brick and mortar but also about a lifestyle of comfort, connectivity, and culture. If you're considering making a move, there's no time like the present to explore the myriad offerings of Maidenhead's vibrant property scene contact our local property experts who will be happy to help.