Navigating the maze of property ownership can be daunting. From understanding mortgage rates to exploring the best locations to live, there's a lot to consider. One emerging method of home ownership is shared ownership, a system that has gained popularity, especially with the close of the Help to Buy scheme. In his article, we delve into the specifics of shared ownership and shed light on the insights provided by Dataloft Inform.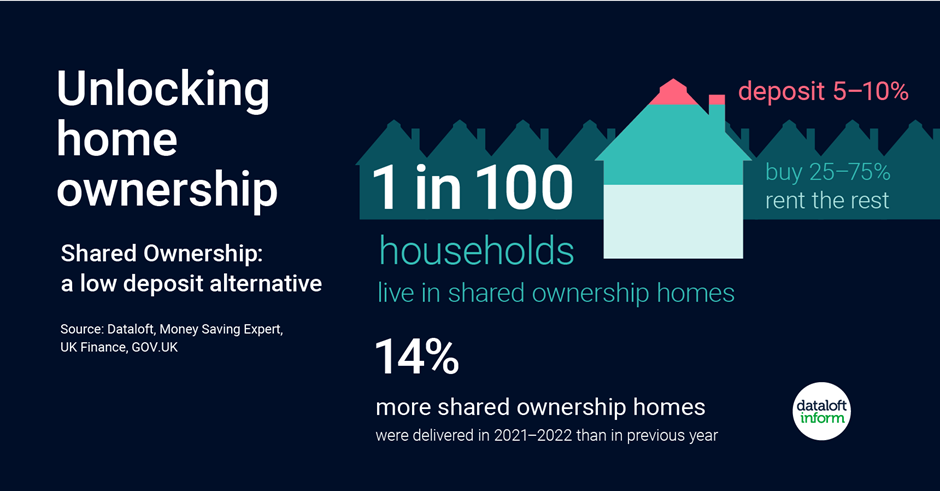 What is Shared Ownership?
At its core, shared ownership is a mix between buying and renting. It offers buyers the chance to purchase a share of a home, generally between 25% and 75%. The rest of the home is owned by a housing association, and the buyer pays rent on that portion. The beauty of this system is that over time, buyers have the option to purchase more shares in their home. This process is known as "staircasing" and can lead to complete ownership.
The Appeal: A Low Deposit Solution
The end of the Help to Buy scheme has left a considerable gap for potential homeowners searching for low deposit options. Shared ownership steps into this void quite elegantly. To give you a bit of perspective, about 1 in every 100 households in the UK have chosen the shared ownership route.
One of the major attractions of shared ownership is the reduced deposit. Typically, a deposit between 5% and 10% of the share purchased is needed. When you contrast this with the average deposit of 24% paid by first-time UK buyers, the allure is evident. Not only does this make the dream of home ownership feasible, but it also alleviates a significant financial burden.
Not Just For First-Time Buyers
A common misconception is that shared ownership is exclusive to first-time buyers. This couldn't be further from the truth. In fact, eligibility for shared ownership extends beyond the realm of first-time homeownership. If your household income is £80,000 a year or less (or £90,000 or less if you're in London) and you find that purchasing a home that fits your needs is beyond your reach, shared ownership could be a viable option. The intention behind this is to offer a helping hand to those who are struggling to find a property that meets their requirements within their budget.
Considering Your Options
Shared ownership offers a compelling solution, but as with any property purchase, it's vital to weigh the pros and cons. On the upside, it can provide an affordable entry point to the property market, particularly in areas where full ownership might be out of reach. On the flip side, you will be paying rent on the share of the property you don't own, and there might be restrictions on how you can modify or redecorate your home.
Is Shared Ownership Your Next Step?
Home is where our stories begin. If shared ownership sounds like a fitting chapter in your tale, it's time to take the next step. The property ladder may have seemed out of reach, but with shared ownership, that first step might be closer than you think.