For 2021 Pantone announced their colours for this year will be Ultimate Grey PANTONE 17-5104 and Illuminating PANTONE 13-064. Pantone say their colour choice is:
"The union of an enduring Ultimate Grey with the vibrant yellow Illuminating expresses a message of positivity supported by fortitude. Practical and rock solid but at the same time warming and optimistic, this is a colour combination that gives us resilience and hope. We need to feel encouraged and uplifted; this is essential to the human spirit!"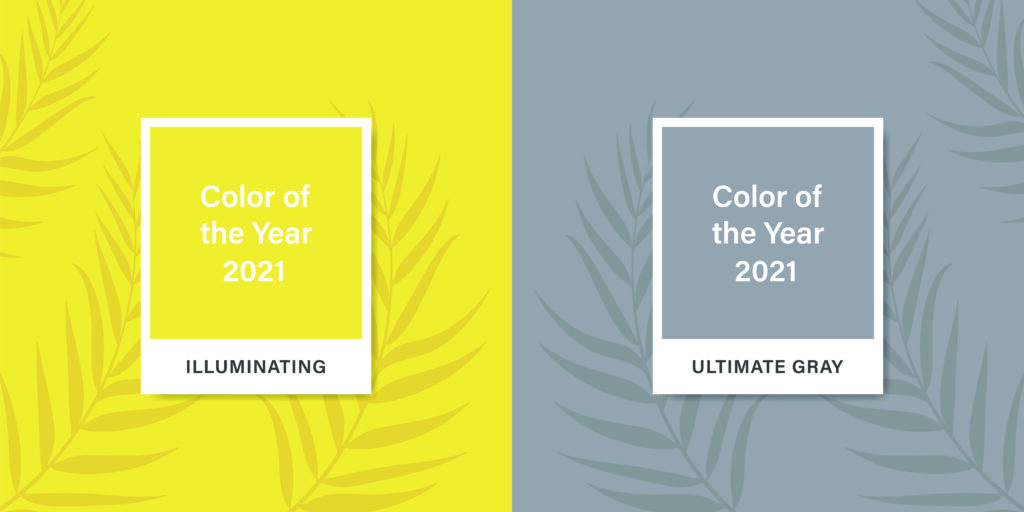 And looking at the wonderfully bright yellow and calming grey we have to say we fully agree with Pantone! In this article we hope to give you some style suggestions on how to use these Pantone Colours of the year in your home.
Create a Focal Point
With this colour scheme we have both a bright colour and a neutral shade. You can easily create a colourful focal point by adding small elements of yellow to a room. Whether that is with statement pieces of furniture or a few accessories or soft furnishings, a small amount of this bright yellow with the more muted grey is going to go a long way – be careful not to overdo it! Digsdigs.com have 41 Grey and Yellow décor ideas for you to browse, keep your eyes peeled for the empty yellow frames artfully arranged on the grey wall, this is a personal favourite of ours!
On the Floor
We have never been so spoilt for choice when it comes to flooring, from luscious deep pile carpets to serviceable and hard-wearing flooring. When choosing carpets it is important to seek advice about the area the carpet will be laid, for example on a stairway opting for a more hard wearing carpet will prevent this high traffic area from wearing too quickly. Think about how you use the room and be practical with your choices. Whilst we all love the feeling of our toes sinking into a luxurious deep shag pile, if you have small children it may not be the most practical choice.
When it comes to hard flooring we had such a tough job choosing just one but we adored the Zinc range from Amtico, this versatile dark silver colour is very light reactive and will work wonderfully well with almost every yellow tone.
For a more temporary change to your flooring think about adding a rug or two, this geometric yellow and grey rug from John Lewis tick a lot of style boxes. Or perhaps this unusual honeycomb designed rug from therugseller.co.uk is more to your taste?
On the Walls
One of the hardest things to visualise is how a whole room will look when you change the colour scheme. Before jumping in, the clever folks at Dulux have created a very clever app to help you see what your room will look like in the new shade before you jump in! You can find out more about the Dulux Visualizer app here.
Geometric designs continue to be popular, if you want to incorporate this style then check out this stunning grey and yellow geometric wallpaper from worldofwallpaper.com
Floral wallpaper is very much on trend for 2021 and we found this beautifully delicate grey and yellow floral wallpaper from Next
Rather than redecorate the walls why not try a statement piece of art instead? Something like this beautiful abstract grey and yellow painting available from Etsy, might just give you look you crave.
Soft Furnishings and Accessories
Don't be afraid to add different textures, mixing glass, metal and wood as well as varying the fabrics of your soft furnishings. This trend is a carryover from the popular Mindfulness technique of concentrating on the here and now, on the different sensations, sights and sounds, by adding different textures you are giving yourself a home to stimulate and ground your senses.