I am sure this is not the first time you have seen me extolling the virtues of living and working in Milton Keynes. The diversity we enjoy is unsurpassed.
This week we are focusing on Stony Stratford and what makes this little market town attractive to property buyers, investors, home owners and tenants alike.
Described on local website Stony Stratford as the jewel of Milton Keynes, Stony Stratford is located in the North West of the Milton Keynes area. There are around 7,900 residents of modern Stony and the immediate areas and the town was given its status in 1215. Named after the purpose, Stony Stratford fords the river Ouse. We are reliably informed by good old Wikipedia that there has been a market held in Stony Stratford since 1194. What a contrast, we talk about Milton Keynes, one of the newest 'cities' in the UK, which includes this historic market town steeped in heritage – rumour has it that the term 'Cock and Bull' story emanates from the two hostelries of those names in the High Street!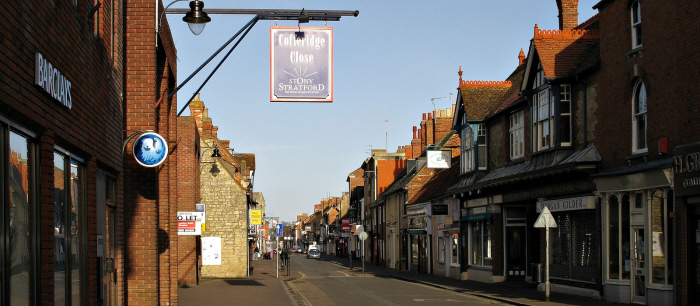 Today Stony is a picturesque Market Town with plenty of pubs, restaurants and speciality shops which adds to the property buyer appeal. Stony Stratford's desirability is very high! This is due to the close proximity to the M1 and easy access to Buckingham, Milton Keynes and Northampton towns.
Stony Stratford residential property ranges from Victorian houses through to mid-20th century properties, with a few much older property gems. It is one of the few towns in the 'new city' area of Milton Keynes that is made up predominantly of older properties.
If you are interested in a solid property investment or indeed a long term family home, then Stony Stratford is most definitely an area to consider. For help and advice regarding Stony Stratford, whether you are a property investor, tenant or looking to buy a family home, our local experts are on hand to help. Call 01908 216644