Once again, we highlight one of the many wonderful towns and cities the UK has to offer. This month, we turn our attention to the Midlands, as we explore the delightful city of Nottingham.
Nottingham is a historic city in the county of Nottinghamshire, nestled in the heart of the East Midlands. Sitting on the River Trent, the city has a rich history that dates back to pre-Roman times. Nottingham is famously known for its association with the legendary outlaw, Robin Hood, and boasts a wealth of historical sites, modern amenities, and cultural attractions.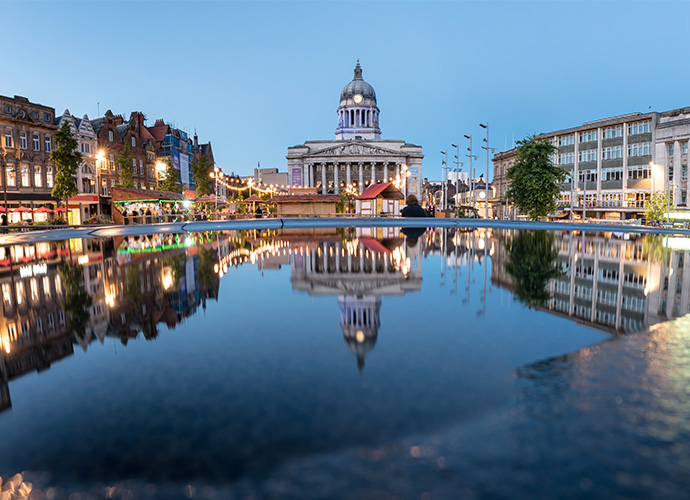 With a population of over 330,000, according to the 2021 census, Nottingham is a vibrant and thriving city that has something for everyone. In this article, we will delve into the city's transport links, things to do, shopping, eating and drinking, and the property market.
Transport Links
Located 128 miles north of London and 45 miles northeast of Birmingham, Nottingham is well-connected by both road and rail. The city is easily accessible by car via the M1 motorway, with a journey to London taking around 2 hours and 30 minutes, while Birmingham is just over an hour away.
Nottingham's railway station offers direct services to London St Pancras International, with journey times of approximately 1 hour and 45 minutes. Birmingham New Street Station can be reached in around 1 hour and 20 minutes. For international travel, East Midlands Airport is only 15 miles away and offers flights to numerous destinations across Europe.
Things to Do In Nottingham
Nottingham offers a wealth of activities and attractions to suit all tastes. History buffs can explore the city's rich heritage at sites such as Nottingham Castle, the National Justice Museum, and the City of Caves. The Robin Hood Experience and Sherwood Forest are also must-visit attractions for those interested in the city's most famous resident.
Culture enthusiasts can enjoy a show at the Theatre Royal and Royal Concert Hall or explore the impressive collection of art and artefacts at Nottingham Contemporary Art Gallery. The city also boasts a vibrant music scene, with live music venues such as Rock City and Rescue Rooms offering regular performances from local and international acts.
Outdoor enthusiasts can take advantage of the city's many parks and green spaces, such as Wollaton Park, home to the stunning Wollaton Hall, or the picturesque Highfields Park. For sports lovers, the city is home to two professional football clubs, Nottingham Forest and Notts County, as well as Trent Bridge, one of the UK's most iconic cricket grounds.
Shopping
Nottingham is a shopper's paradise, with a mix of high-street favourites, independent boutiques, and bustling markets. The city centre offers several shopping centres, including the Victoria Centre, the Exchange and the stylish Bridlesmith Gate area, which is home to a range of designer stores and upscale boutiques.
For a more unique shopping experience, head to the historic Hockley area, where you'll find an array of quirky shops, vintage stores, and independent retailers. Additionally, the city hosts several markets throughout the year, including the famous Christmas market and the annual Goose Fair.
Eating and Drinking
Nottingham's food and drink scene is diverse and thriving, with a wide variety of options to suit all tastes and budgets. From Michelin-starred fine dining at Sat Bains and Alchemilla to the lively atmosphere of Hockley's many bars and restaurants, there's something for everyone.
For craft beer aficionados, venues such as BrewDog, and Ye Olde Trip to Jerusalem, reputedly the oldest inn in England, offer an extensive selection of local and international brews. For creative cocktails, be sure to visit the Alchemist, a cocktail bar located in the gothic grandeur of one of King Street's most magnificent listed buildings
Nottingham is also a hotspot for international cuisine, with restaurants offering dishes from around the world, including Indian, Italian, Thai, and Japanese. Don't miss the opportunity to try local delicacies, such as the famous Nottinghamshire Bramley apple and Stilton cheese, at establishments like Delilah Fine Foods or Hart's Restaurant.
Nottingham Property
If our exploration of Nottingham has piqued your interest in relocating to this vibrant city, you'll be keen to know more about the local property market. According to home.co.uk, the average price for a property in Nottingham is £329,525, with a one-bed flat averaging at £131,237, a three-bed family home at £282,139, and a larger five-bed property at £662,839.
For those looking to rent, the average monthly rent in Nottingham is £1,285 pcm, with a one-bed flat costing around £793 per month, a three-bed family home at £1,356 per month, and a spacious five-bed property at £2,434 per month.
To learn more about the property market in Nottingham, why not chat with our local property experts? Our Nottingham Property team will be delighted to share their insights and knowledge with you. If you want to know about up-and-coming areas, local schools, or investment opportunities, you're in great hands!
For quick reference, you can view our current Nottingham properties for sale here, Nottingham homes to let here, and Nottingham investment opportunities here. Whether you're buying, selling, renting, or investing, our Northwood Nottingham team can assist you every step of the way.