The landscape of student accommodation in the UK is undergoing a seismic shift. As universities continue to see surges in application numbers, the housing market struggles to keep pace with the demands of this burgeoning population. Traditional halls of residence and other forms of institution-provided housing are no longer able to meet the needs of the modern student body, leading to a pressing reliance on the private rented sector.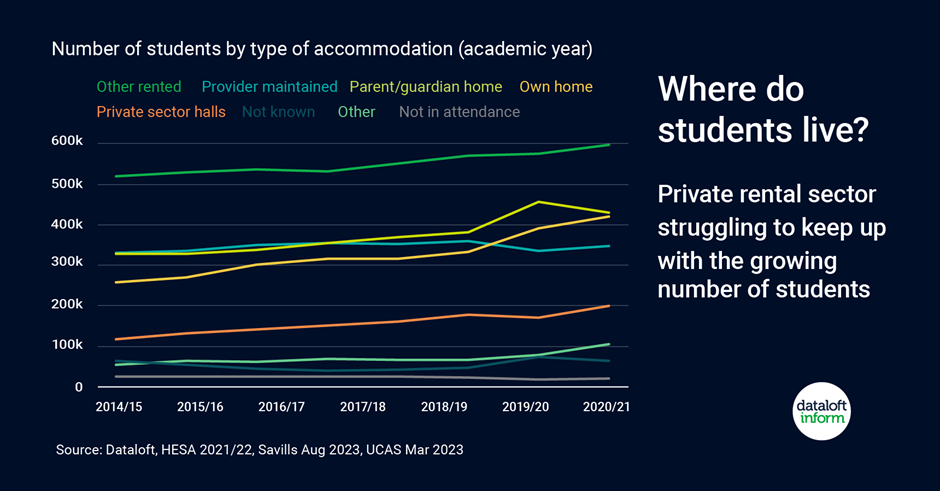 Rise in Private Rented Sector for Students:
According to recent insights from Dataloft Inform, there has been a notable increase in students opting for house shares within the private rented sector. Since the academic year 2014/15, these numbers have been on an upward trajectory. Interestingly, there has also been a rise in students living in their own residence, which underscores a broader trend: the move away from traditional, institution-controlled living arrangements. This ongoing shift is not without its set of challenges, particularly concerning supply and demand.
The Intensifying Competition for Accommodation:
Research highlights a startling figure – on average, there are 2.9 students competing for each bed space in the UK. This statistic alone showcases an undersupplied sector, stretched to its limits. Projections suggest a more daunting picture, with higher education applications expected to soar by 30% by 2030. If supply doesn't significantly increase, the competition for each available property will reach unprecedented levels, pushing students into more desperate housing situations.
Strain on Provider Maintained Accommodation:
The tension between supply and demand is not just a narrative confined to the private sector. Provider maintained accommodation, which has historically been a staple of the student living experience, is buckling under pressure. Data reveals that between 2018/2019 and 2021/22, the proportion of students living in such accommodation plummeted from 19% to 16%. This decline isn't just a statistic; it's a story of students' scramble for alternatives, predominantly in the form of privately rented spaces.
An Opportune Moment for Landlords:
For potential investors and current landlords, this chronic undersupply in student accommodation represents a golden opportunity. The market is ripe, dictated by a robust and growing demand, promising good yields. With the continual increase in students seeking private rentals, property owners can capitalise on this trend, especially if moves are made swiftly in preparation for the next academic year's intake. Strategically located properties, close to university campuses, are likely to yield the highest demand among students.
Navigating the complexities of the student rental market requires insight, strategic investment, and timely action. As we brace for further growth in student numbers, the private rental sector must ready itself to rise to the occasion. For landlords and investors considering a venture into this promising market, the time to act is now.
Whether you're a seasoned property owner or a new investor seeking to dive into the student accommodation sector, our expert team is here to guide you. With comprehensive knowledge of the market trends, legal requirements, and the best locales for investment, we ensure your journey into student property investment is seamless and profitable.
Contact us today to understand how you can contribute to shaping the future of student living, all while securing a valuable investment for your future.