September, often associated with the onset of autumn and a return to routine, also presents an opportune moment for landlords, estate agents, and those deeply entrenched in the UK rental market to reflect on the past months. The completion of another academic year heralded significant movements in the market, with student migrations playing a pivotal role. Utilising data insights from Dataloft Inform, we take a look at this student-led reshuffle.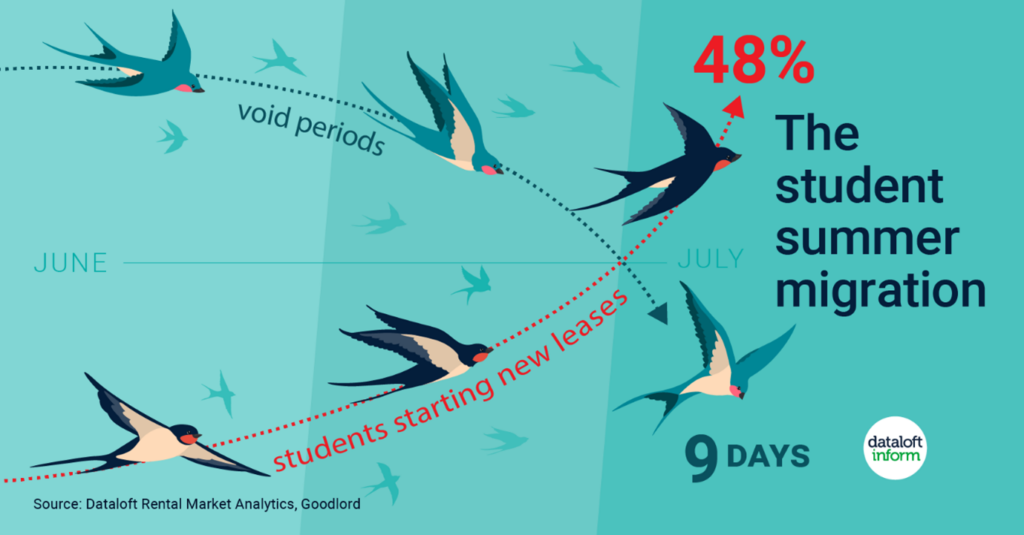 Reflecting on the Annual Student Exodus
From our vantage point, it's fascinating to look back at the flurry of activity that July heralded. As students transitioned between academic years, there was a remarkable 48% surge in new lease commencements compared to June. This annual movement didn't just mark a shift in tenancies but also escalated competition, nudging rental prices upwards.
Revisiting the Rise in Rental Values
Fuelled in part by students spreading their wings, the average rents in July marked a 3.8% increase from the previous month. Students migrating to new cities and towns not only boosted occupancy rates but also influenced the market prices.
A Regional Retrospective
Looking back, while almost every region witnessed an uptick in rents, some stood out more than others. Notably, the South West, Scotland, and the North West experienced significant spikes. Conversely, the North East continued to be a beacon of affordability.
Greater London, with its undeniable allure and top-tier institutions, maintained its top spot, recording the highest rents. The capital's enduring demand, despite its premium pricing, remains a testament to its unmatched appeal.
A Brief Period of Emptiness
The shift in student rentals during July remarkably shortened the void periods. June's average of 16 vacant days for properties dwindled to just nine days by July. A clear indicator of the urgency with which students were securing their next academic year's accommodation.
Landlords' Retrospective Insight
For landlords, whether traditionally catering to students or not, the past few months have offered a rich tapestry of data and trends. Even if one's property isn't nestled in a university hub, the wider ripple effects of student movements were palpable, influencing rental figures in even the peripheral regions.
Forward Momentum
With the insights September brings, looking back at the ebb and flow of the rental market shaped by student activity is both enlightening and instructive. For landlords and investors, these reflections should shape future strategies.
If you're mulling over your next steps or considering diving into the student rental market, now's the time to capitalise on the knowledge these past months have afforded. Reach out to our seasoned team to navigate your way forward with expert insights.