Continuing with our popular spotlight series, this month we are going to take a look at the Cathedral city of Peterborough in Cambridgeshire. Home to its eponymous cathedral which grew out of an Anglo-Saxon monastery, Peterborough's history goes back to before the Bronze age (3300 BC to 1200 BC). Located on the River Nene, Peterborough also lies adjacent the Fens where some parts are actually below sea level.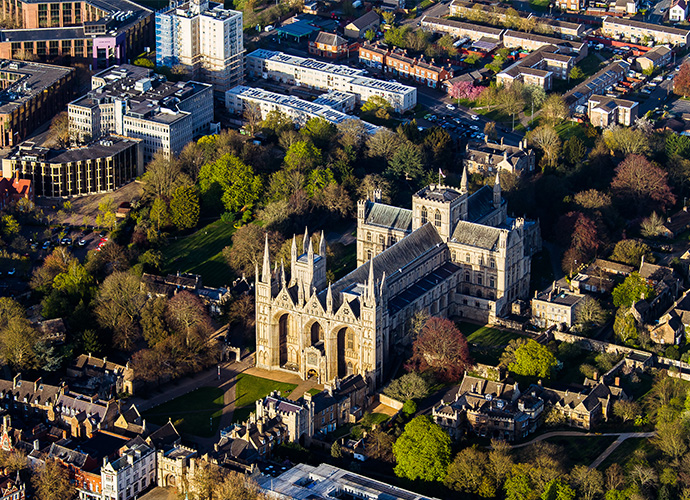 Peterborough History
Peterborough has been a settlement since before the Bronze age. The biodiversity and plentiful food made the Fens a perfect place to settle. At Flag Fen lies a Bronze age wooden causeway, which stretched over 1km to a settlement in Whittlesey. The Roman settlement of Durobrivae was established in around the 1st century A.D. In the Roman times Peterborough was an important source of ceramics called Nene Valley Ware which was traded throughout the country. In 655 A.D. Peada, the son of the Pagan king Penda introduced Christianity to Peterborough by building a monastery in what was then called Medeshamstede, now the site of Peterborough Cathedral. In around 1000 AD a wall was built around the town to protect it from the Danes and this was called St Peter's Burgh, the early precursor to the modern Peterborough. After Hereward the Wake sacked the town in around 1070, the Abbott built a fort which it now called Tout Hill. In 1189 the town was granted a charter for an annual fair highlighting the growing importance of Peterborough as an agricultural and business centre and it was in the same century that the abbey was rebuilt after a fire and greatly enlarged. In the 18th Century Peterborough continued its importance with enhancements to the Canal network that had been built 2 centuries earlier to speed up the shipment of goods along the Nene to the Wash. The introduction of the railways and more specifically the London to York line transformed Peterborough into an industrial centre. For much of the 20th Century Peterborough and the surrounding areas were the UK's leading producer of bricks, but the focus of Peterborough's industry changed in the latter part of the 20th century with companies like Thomas Cook and Pearl Assurance taking up a presence in the town. Peterborough is still an important city and is also home to one of the UK's passport offices.
Transport
Peterborough lies about 76 miles north of London and lies directly next to the A1(M) which links London to Edinburgh. Driving time from Peterborough to London is around 2 hours. The A1(M) links on to many major A-roads and Peterborough is well connected to places such as Cambridge, Leicester, Nottingham and Norwich.
Peterborough is served by the Peterborough railway station which is a main stop on the East-Coast mainline with journey times to London of around 50 minutes. The East Midlands Railway links Peterborough with Norwich, Nottingham and Liverpool. Cross country rail links the City to Birmingham, Leicester, Cambridge and Stansted airport and Greater Anglia takes passengers to Ipswich in Suffolk.
Peterborough does not have its own commercial passenger airport, but has good links to London Stansted, East Midlands and Birmingham airports.
Things to Do in Peterborough
Given its rich heritage a trip to the Flag Fen Archaeological park is a must for any visitor. A budding Archaeologist can get involved in the ongoing digs at the site as well as explore a bronze age roundhouse and even see remains of the ancient causeway.
Another must see is the Cathedral itself. Dating back to the 7th Century, the Cathedral is the place where both Katharine of Aragon and Marie Queen of Scots are buried. With guided tours of both the main cathedral and the tower, a day out at the cathedral is a real step back in time.
For those who love winter sports, a trip to Planet Ice is a must. With all year-round ice skating for all the family those who love ice skating can spend a few hours gliding over the ice. For those who love ice hockey it is the home of the Peterborough Phantoms ice hockey team.
On a warm day, a trip to the Ferry Meadows Country park is the perfect day out. Take a picnic or enjoy a snack in one of the cafés. With walks and trails, a large boating lake with Swan Pedalos, row boats and even their own electric tour boat there is something here for every water lover.
Shopping
With over 90 stores and 15 places to eat the Queensgate shopping centre is the place to go for all your high street favourites such as Hotel Chocolat, Clarke's, JD Sports, Fat Face and Flying Tiger. Tagged on to the centre is the Westgate arcade which is home to independent retailers. For more independent retailers take a trip to the Rivergate Centre which boasts over 26 independent outlets.
Peterborough also has a thriving high street, rather rare these days and in 2019 Peterborough was named as the city with the most thriving high street.
Eating and Drinking
For those who like Asian food the Ghurka Durbaar, is the place to go. Specialising in Indian and Nepalese cuisine the restaurant is based in the old Library which was originally opened in 1906. Why not be adventurous and try the Himalayan goat curry?
For something a little more North African, try the Tavan restaurant which specialises in Morroccan and Turkish food. We particularly liked the look of the Tangier meat platter.
You all know that we love an old pub and Peterborough does not disappoint. The Blue Bell Inn dates back to 1598 where it began life as a farmhouse before converting to a pub in 1810. A traditional pub serving real ales with a bar, a lounge and even a traditional snug, this is a pub goers perfect place.
Dedicated to craft beers and unique spirits and wines, the Stoneworks is a great place to go. Being the only pub in the city to offer punters the opportunity to play shuffleboard, this place really stands out for its unique offerings.
Property
If this article has piqued your interest in Peterborough, you might find it interesting to know what the property market is like here.
If you would be looking to buy a home in Peterborough, according to Home.co.uk a 1 bedroomed place costs on average £112,554, a decent 3 bed family home costs around £273,998 and a large 5 bedroomed family home costs £565,859 with the overall average price for a home being sold being just over £300,000.
If renting is more attractive to you, then a 1 bed place will cost, on average £888 per calendar month, a 3 bed family home will cost around £1,291 pcm and a large 5 bed property will cost £2,068 per month.
If our spotlight on Peterborough has made you curious about a possible move to the area, please see our current listings for Peterborough. If you would like to speak with one of our local property experts, please follow this link to find contact details for our Peterborough office where our professional and dedicated team will be happy to help.