As part of our popular spotlight on series, this month we will take a look at the Cathedral City of Chester. Close the English-Welsh border, Chester is the county town of Cheshire. Dating back to the Romans in 79 AD, Chester has a long and distinguished history and is, today, the second most populous place in Cheshire after Warrington. The city also boasts some of the best-preserved grade 1 listed ancient city walls in the country.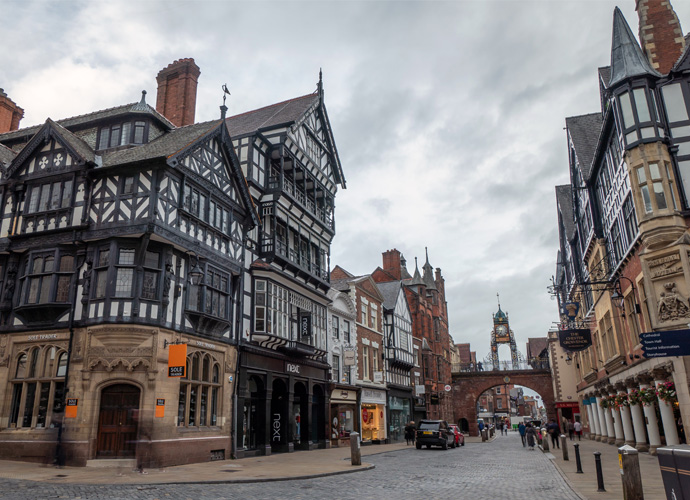 Chester History
Chester was founded as a Roman fort back in 79 AD and was called Deva Victrix. The origin of the name is not 100% agreed upon but is likely to either have come from the Goddess of the Dee or directly from the name of the River on which it sits. The Victrix part comes from the Roman legion that was based there; the Legio XX Valeria Victrix. A settlement grew up around the fort which was around 20% larger than other forts built around the same time, which indicates how important it was in Roman times. The Romans built an amphitheatre which is now a scheduled monument and the largest known military amphitheatre in Britain. After the Romans left in the early 400's AD, Chester formed part of the kingdom of Powys and in 616 the town was taken over by the Anglo-Saxons after Aethelfrith of Northumbria defeated the Welsh at the battle of Chester. What is now the cathedral was first founded back in 689 as the Minster Church of West Mercia. In 1066 the Normans took Chester and built what is now Chester Castle. Chester's port flourished under the Norman rule and the port traded with Spain, Ireland and Germany, throughout the 13th century Chester was famed for its fur trade. During the Civil war, Chester was a key battleground and was taken over by the Puritans in 1646 where much of the town was destroyed. The port began to decline in importance as shipping moved to Liverpool and by 1840 it could no longer compete. This led to a revival in the Georgian era with the rich fleeing the industrial towns of Manchester and Liverpool. Chester's famous racecourse is the oldest racecourse still in operation and can trace its roots back to 1539 when the first races began. The course is thought to have been created by the silting up of the harbour that was used by the roman settlement. These days much of the land in Chester is owned by the 7th Duke of Westminster and tourism, the retail industry, public administration, and financial services are important to the modern economy.
Transport Links
The city is a hub for major roads, including the M53 motorway towards the Wirral Peninsula and Liverpool and the M56 motorway towards Manchester. The A55 road runs along the North Wales coast to Holyhead (from where you can get to Ireland by ferry) and the A483 links the city to nearby Wrexham.
Chester has one main railway station called Chester General from where services go to Liverpool, Manchester, Cardiff, Birmingham, Holyhead and Crewe.
Although Chester does have its own airport, Hawarden airport, this is not an airport for normal passengers. That isn't a massive issue though as both Liverpool and Manchester international airports are very close by. Liverpool airport is just 25 miles away and there are also good train links. Manchester airport is just 33 miles away and also has direct train services.
Things to do in Chester
Given its size and rich history, it is no surprise that Chester has plenty of things to do.
For those who love a day at the races, a trip to the oldest race course in the UK is certainly a must do isn't it? Although the racing season is pretty much over for this year, why not look at popping over next year and seeing how your luck turns out?
For a family day out Chester Zoo is the perfect escape. Spread out over 125 Acres, over 35,000 animals have plenty of space to roam. There is plenty to see which will keep everyone occupied for the whole day.
On a nice warm day, what could be better than a sightseeing cruise along the river Dee? Take in the sights and sounds of the riverside and meander through the Eaton estate which is the ancestral home of the Duke of Westminster.
How about a farm with a difference? You won't see too many animals in this one, but what you will see is ice cream. That's right, it's an ice cream farm. With 50 flavours of ice cream and plenty of play areas, this is a sure-fire win.
It is impossible to cover everything that you can do in Chester and the local area, so why not pop over to the Chester and Cheshire website and see all the activities that are on offer.
Shopping
Let's start somewhere a little less mainstream. The Rows in Chester is the place to shop if you like beautiful boutiques and independent stores. From vintage jewellery, to own blend tea to bespoke suits, the Rows really is the place for those not-on-the-high street stores.
The Grosvenor Shopping centre is right in the heart of the city the centre has everything from HMV for all your music needs, to sports direct to help equip you to stay fit and healthy and they also have the perfume shop for all your favourite scents.
For all the high street favourites, you will need to go, literally, to the high street. You are covered for your every need. There is Dawsons for your musical instruments, Several jewellery stores, a Primark and so much more.
Eating and Drinking
As you'd expect from a decent sized city, there are plenty of restaurants and pubs.
For something quite grand there is the Opera Grill, housed in a grade II listed building, this huge restaurant has charcoal grills, wood burning ovens and even it's own stage area for live music every Friday.
Situated right in the historic heart of Chester, the Forge offers food made from wild, sustainable British ingredients brought together and cooked over real fire and charcoal. With locally sourced meat and all British seafood, so you are assured of great quality.
We do love our old pubs in these articles and this time will be no different. Chester has some seriously old pubs from the Victoria which dates back to 1269 to the Old Boot inn which dates back to 1643. Why not follow this historic pub tour and take in some of the oldest pubs you are likely to see in any other British town or city.
For a mixture of everything, try the Assembly. You can pop in first thing for some coffee, grab yourself some great tapas during the day and then transition to a bar for evening drinks and cocktails.
For plenty of other bars and restaurants in the area, take a look at this web page.
Property
If our brief summary of Chester has piqued your interest, perhaps it's worth looking at property prices.
The average price to buy a home in Chester is £333,366 according to home.co.uk. This ranges from £144,760 for a 1 bedroom place to £319,999 for a 3-bed family home to a top end of £694,652 for a large 5-bed family home.
If renting is more your thing, then the average rental price for a Chester home is £1,064 pcm according to home.co.uk. This ranges from £807 for a 1 bedroom property to £1,388 for a 3 bedroomed family home to £2,008 for a larger 4 bedroomed property.
If our spotlight on Chester has made you curious about a possible move to the area, please see our current listings for Chester. If you would like to speak with one of our local property experts, please follow this link to find contact details for our Chester office where our professional and dedicated team will be happy to help.