We're not too far away from the festive season and thoughts will be turning to getting the decorations out and putting up the tree. Rather than simply putting up shop bought decorations, why not, this year, make some yourself. What could be better at getting you all into the festive spirit than spending quality time with the family making home made decorations? In this blog we will take a look at some fantastic Christmas craft ideas for all the family.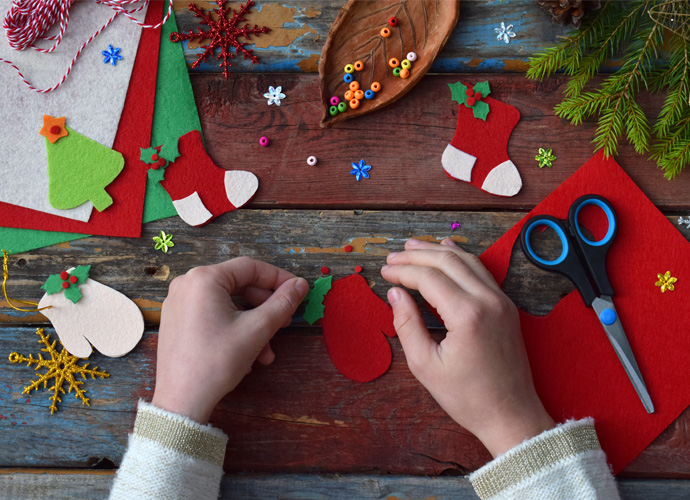 Paper Snowflakes
Although we do seem to dread the snow, we all love a white Christmas. This is never guaranteed though, so why not make your own snowflakes from paper? We particularly loved this 3-D snowflake. You need 6 pieces of A4 paper, some sticky tape, scissors and a stapler. It takes next to no time to make it. Simply fold a piece of paper in half diagonally. Cut off the excess at the bottom. Fold the paper in half diagonally again. Mark 3 lines parallel to the longest side starting at the non-folded end towards the short folded end leaving about an inch uncut and cut along the line. Open up the folded paper. Fold the inner flaps in and tape them together. Do the same for each of the tabs, folding them into the centre and taping them together. Repeat this for all the other pieces of A4 paper until you have 6 "sides". Bring them all together and staple them at the centre and where each side touches its neighbour to create your 3-D snowflake. How about a touch of glitter to simulate the sun glinting off snow?
Make your own Baubles
All you need for this is some fillable clear ball ornaments and something to put in them. This can be anything you want from feathers to holly sprigs, or mistletoe and berries to artificial snow to tiny puppets. The fillable baubles are supplied in half, making them easy to fill. Fill them with whatever you want and then join to two pieces together. It might be worth using some superglue to ensure that they stay stuck together. Once you have stuck them together, simply tie some string through the attached eye and hang them on your tree. No that is the epitome of a personalised bauble!
Personalised Stocking
We all love hanging a stocking up to see what little gifts Santa brings us, but why not make your own personalised one? Buy a plain linen stocking from somewhere like Hobbycraft and then the world is your oyster. If you are feeling really creative, you can sew your own stocking together using the pattern that you can find on Bags of love. You can decorate it anyway you want. Get a hot glue gun to stick on whatever you want, be that letters for initials, a full name, ribbons, tinsel, pom-poms even felt holly leaves and reindeer. Let your imagination run wild.
Polystyrene Ball Wreath
Everyone loves a wreath and the more wintery and glittery they are the better. Using simple polystyrene balls of different sizes, some glitter (if you want) and a round cardboard wreath ring you can make an amazing Christmas wreath. You will need some ribbon, a hot glue gun, PVA glue and away you go. Cut out the wreath ring to the size you want from some sturdy cardboard and wrap it in ribbon or coat it in glitter. Entirely your choice! You now have the base of your wreath. Using your hot glue gun, you can stick the polystyrene balls on to the form in any way you want. Try sticking the balls on top of each other as well to create a great 3-D effect. Simple white balls look nice and snowy but why not coat the balls in glitter? Apply the PVA glue to the balls and roll them in the glitter. Once dry, you can stick them on the wreath. You can even paint the balls any colour you want. This process also works using normal shatterproof baubles. There is a great video tutorial on Youtube which, rather than a carboard form uses a readily available polystyrene donut.
Doing things together as a family is always quality time and makes things so much more special. What could be more special than creating some Christmas decorations together which can be re-used year after year, bringing back great memories. Whatever you decide to make together, remember to enjoy your festive time together.