Wallpaper can transform any room in your home, creating a décor with more interesting textures and designs than plain paint can hope to accomplish. But where do you start? How do you go about choosing your paper and what should you look out for? We have compiled this short guide to help you choose and hang your Wonderous Wallpaper: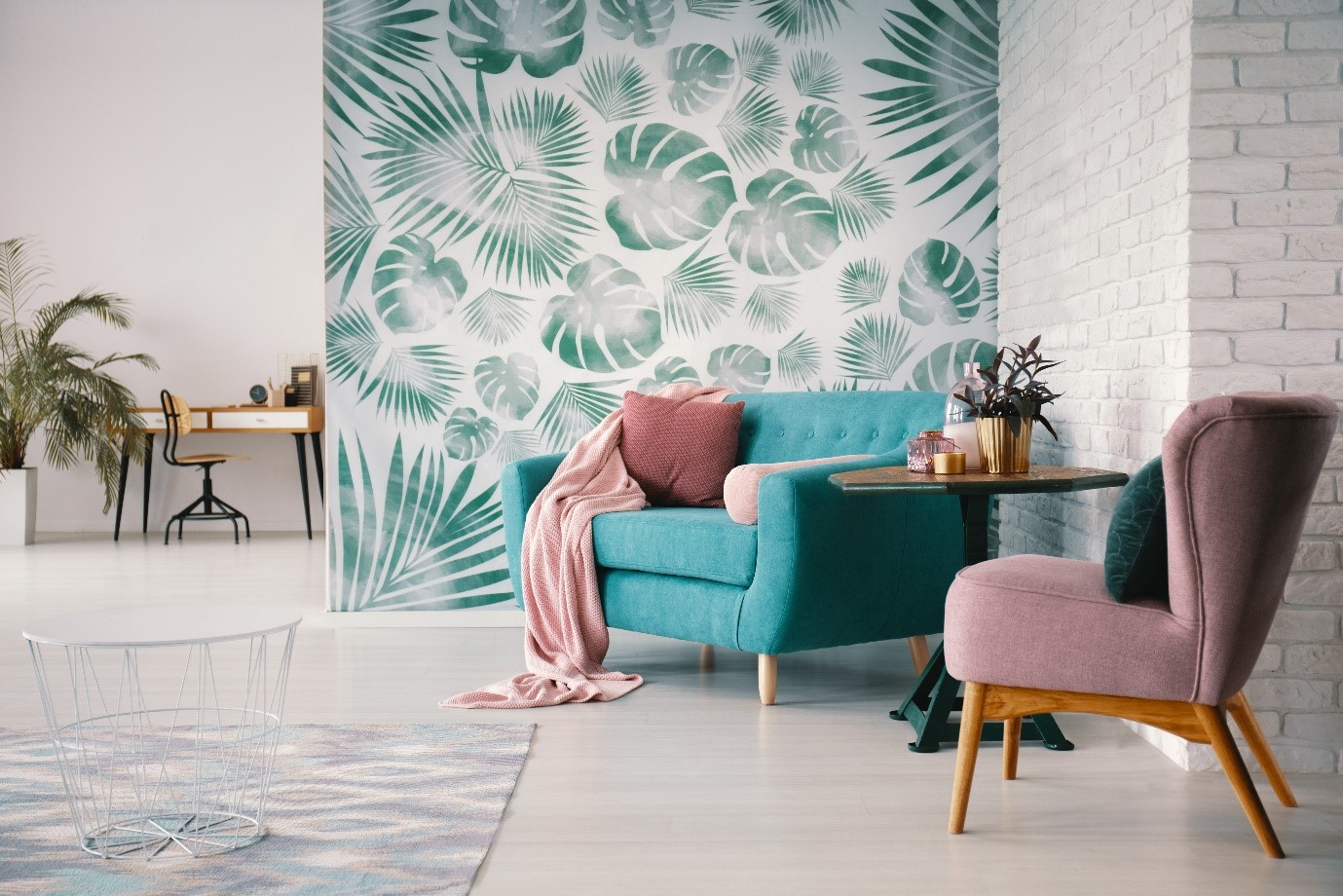 Where to Hang Wallpaper
Wallpaper looks great in almost any room. Whether you want to give each wall the same look or like to mix and match styles will depend on personal preference. In small spaces, a beautifully designed section of wallpaper can produce a dramatic effect. The living, dining room, bedroom, hall, landing and stairs are perfect locations for wallpaper. Avoid steamy rooms like the kitchen and bathroom, otherwise you might encounter an unsightly peel.
Partially papering a room has become quite popular. For example, if you have an alcove area, just papering this location while leaving the rest of the room painted makes for a stunning effect.
Choosing Your Wallpaper
If you have walls that are slightly uneven, embossed wallpapers will help hide a multitude of sins.
Decorative wallpapers are a little more difficult to put up and you can spend a lot of time making sure the pattern is consistent. Not a problem for an experienced wall paperer, but bear this in mind when it comes to selecting your paper.
If you're papering the whole room, make sure you choose a wallpaper you can live with and which still looks great once you put up your pictures and other furnishings in place.
Beginners Tip: If you are new to hanging wallpaper, plain usually works better because you don't have to worry about matching up edges.
Popular Designs
There are plenty of designs to choose from. Head down to your local DIY store or pop online to find classic, unusual and sometimes interesting designs to browse through. Whichever route you take, request a sample so you can see the paper in the room you wish to use it in.
Companies such as WallpaperDirect.com have a huge range of wallpapers from popular manufacturers, including Harlequin and Nina Campbell. Bold colours and shapes are all the rage at the moment allowing you to create vibrant spaces that really have impact. If you prefer more muted tones, however, there are plenty of traditional designs on offer. Try these beautiful, traditional designs from SelectWallpaper.co.uk
If you're looking for handmade and original, you might like to try a site like Etsy where you'll find some interesting designs.
You can also buy stunning mural style wall hangings that can be used to produce artistic panoramas across walls.
Our top 5 Wallpaper Hanging tips
At first sight, wallpapering can seem difficult but it's one of the easier DIY arts. Here are some of our top tips.
You need patience to hang paper properly. Don't rush yourself, take your time and you should be fine.
Make sure you invest in the proper tools including a pasting table and a pair of sharp scissors.
You need to prepare the walls properly – that means stripping off old paper and making sure the wall is smoothed down, clean and dry.
Plain walls need to be lined first. Your top paper will be hung vertically so you need to line the wall horizontally with this.
Corners and window areas can be fiddly so you need to know what to do when you reach them. We suggest that you watch this excellent series from B&Q and prepare yourself before you attack the wallpapering.
We hope you have found this article helpful. Wallpapering can seem daunting but with perseverance, the rewards will be enjoyed for years to come.