As we move around the country in our popular Spotlight series, this month we will take a look at the Cheshire market town of Macclesfield. Once the world's largest producer of silk, Macclesfield lies just 20 miles south of Manchester.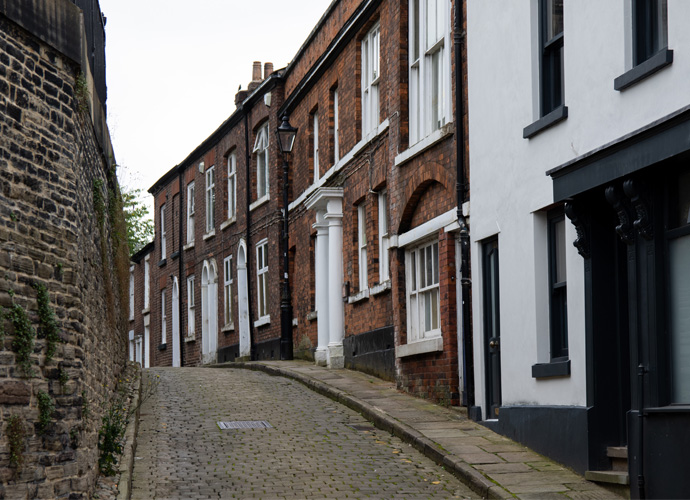 Macclesfield History
Macclesfield and much of the surrounding county was held by Edwin, Earl of Mercia before the Normal Conquest but it was devastated by the Normans in 1070. It continued to be a manor and a small market town from the original market town status being granted in 1261 to the early 15th century with a small population. A fortified town house was built in the 1400's but it wasn't really until the Tudor period that Macclesfield started to prosper with coal mining coming to the area and the manufacture of harnesses, gloves and buttons, especially silk buttons. In the mid 18th century silk buttons were no longer fashionable so the town started to produce silk. The first silk mill was established in around 1743. By 1832 the town had 71 mills employing over 10,000 people. Silk manufacture continued in the town until the 1980's but was no longer the dominant force it was after a financial crash in 1851 caused many of the workers to emigrate to the silk mills in America. Macclesfield is famous for being the original home of Hovis bread and the publicity works mill was set up to produce a very dry and dense wholemeal loaf as a nutritious and cheap food for the mill workers. The Mill still stands today. Macclesfield is believed to be the only mill town to have escaped bombing in WWII and after the war the pharmaceutical industry came to the town in the form of Geigy, now Novartis and ICI, now AstraZeneca.
Transport Links
Macclesfield is served by the aptly name Macclesfield train station and lies on the West Coast Mainline. It has hourly services to Manchester, which is only 20 minutes away, Stoke-on-Trent, 15 minutes away and London Euston which is only 1 hour and 47 minutes away
Macclesfield does not have its own airport, but then it is only 9.5 miles away from Manchester International airport with destinations worldwide. Liverpool international airport is only 31 miles away. It is fair to say that when it comes to jet setting, Macclesfield is ideally located.
Although not directly near any motorways, the M6 being the nearest, Macclesfield does have a good network of A roads which connect it to Manchester which is only around 20 miles away, Liverpool which is 44 miles away, Birmingham, which is 72 miles away down the M6 and Chester which is only 42 miles away. Directly to the East of Macclesfield lies the Peak district and Buxton is only 11 miles away.
Things to Do in Macclesfield
Although about a 40 minute drive, for the Harry Potter fans amongst you, if you are in the area a trip to the Forbidden Forest is needed. Discover Nifflers, make your own Patronus appear and even come face to face with a Hippogriff as you walk through and experience some of the most iconic Harry Potter forest scenes.
For the sky gazers out there, right on the doorstep is Jodrell Bank. Designated a site of Oustanding Universal Value, Jodrell Bank offers 4 fascinating pavilions including the first light pavilion where you can experience the space dome show and learn all about the history of Jodrell Bank as well as have a guided tour through the night sky. A quick pop into the space pavilion will allow you to hear the big bang as well as see live feeds from the Lovell Telescope itself.
If you want something a little more energetic, then pop over to the Go-Ape experience at Buxton, experience the Tarzan swings and some pretty tricky obstacles as you clamber around among the tree tops.
Given Macclesfield's rich history of silk making, why not take a trip to the silk museum and take a step back in time to Macclesfield's heyday? Learn all about how silk is made, the important role that Macclesfield played in the second world war and also take a look at the Egyptian collection which was donated by two Victorian explorers, Marianne Brocklehusrt and Mary Booth.
Shopping
Clearly, if you live in Macclesfield and want choice from every conceivable shop, a trip to Manchester is on the cards. Manchester really has everything the avid shopper needs.
For something a little closer to home, Macclesfield has a fantastic high street with independent, boutique shops which sit alongside the normal high street chains including the Grosvenor shopping centre for those rainy days.
Eating and Drinking
Dating back to the 15th Century The Bate Hall pub is one of the oldest pubs in Macclesfield. It is also thought to be one of the most haunted pubs too. It is thought that Oliver Cromwell himself stayed there as a guest. Why not pop in for a pint and see if you can spot one of the ghosts.
From one of the oldest watering holes to one of the newest venues, why not try the Urban Vixen Cocktail Bar. Enjoy sipping some spectacular cocktails whilst experiencing some great live music and even one of the best drag shows in the area. You're in for a truly enjoyable evening out.
Just a few miles outside the town centre lies the Lord Clyde gastro pub in the village of Kerridge. Serving homemade Sunday roasts to contemporary English dishes the Lord Clyde is a small but friendly eatery.
If you love Scandinavian food, then a trip to the Salt Bar is what you need. A family run restaurant with an emphasis on Scandinavian fare such as Scandinavian meatballs or even one of their sharing plates with House Salt Beef.
Property
If our article has inspired a potential move to Macclesfield, before you go ahead and start packing, let's check out the local property market. According to www.home.co.uk the current average price for a property in Macclesfield is £403,000. The current average value for a one bedroom property is £120,622, 2 beds will set you back on average £201,682, 3 bedrooms £338,950, 4 bedrooms £534,371 and a 5 bedroom property will, on average cost £821,996.
For the rental market, the average prices in Macclesfield currently stand at around £708 per calendar month for a one-bedroom property, £868 pcm for a 2-bedroom property, £1,541 pcm for a 3-bedroom property and £2,022 pcm for a 4-bedroom property.
If our spotlight on Macclesfield has made you curious about a possible move to the area, please see our current listings for Macclesfield. If you would like to speak with one of our local property experts, please follow this link to find contact details for our Macclesfield office where our professional and dedicated team will be happy to help.