Most of us have at least one or two mirrors around the home. While many focus on the practicalities of inspecting your reflection, you can use mirrors to add light to a room and as central statement pieces that will add something exceptional to your décor.
Talk to any interior designer and they will tell you that mirrors are a key part of any home design.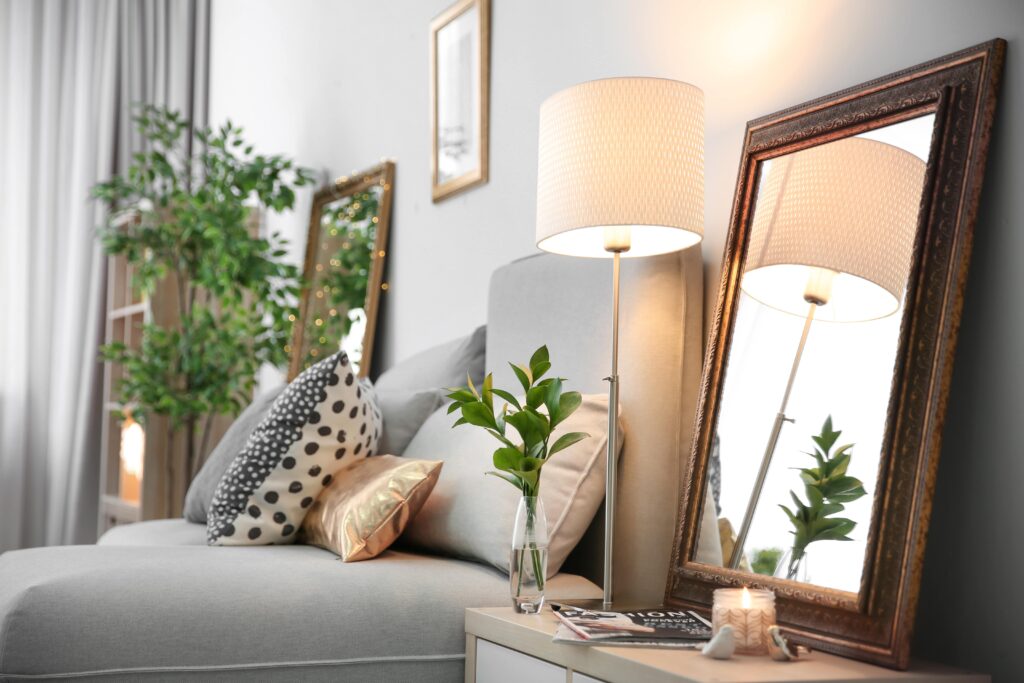 Lighten Your Space
If you want to enjoy more natural light, then placing a decent size mirror either opposite or next to a window can make a big difference. The bigger the mirror, the more extra natural light you get. You don't have to settle for one big piece – a great effect can be created using smaller, strategically placed mirrors. If you have a large room and window but there are some dark corners, your mirrors can also help illuminate these spaces in conjunction with a lighter wall colour.
Grabbing Attention
Mirrors can be an interesting way to create focal points, particularly in areas like the living room. A large mirror in a small room can give the illusion of more space. A curved mirror will distort the reflection and create an interesting design aspect which works well in bedrooms.
You will need to decide how much you want the mirror to be the focal point. When choosing mirrors think about the placement in the room take into consideration the existing furnishings and examine if the eye-catching frame will fit in. Assess the wall space available and it is worth noting that mirrors are very heavy pieces, will the wall realistically, be able to take the weight.
Choosing the Right Mirror
Mirrors will add style to almost any décor, whether you're going for shabby chic, contemporary, full out opulent or want a modern, clean design. You can get mirrors that are shaped like windows, ones with geometric designs and others that look like stunning works of art. The key is understanding how your mirror fits in with the décor and what purpose you want it to serve.
You will have noticed that your reflection will differ depending on which mirror you're using. Some mirrors will make you look a little larger, some a little thinner, others even make your wrinkles show up more. It is not just down to the amount of light in the room that this happens. There are variations in mirrors depending on their quality and finish. If you want one that's going to provide a true reflection of what you look like, then you need to invest a little more money.
Of course, you may not be interested in your reflection at all and the design is the most important aspect.
When  you're buying a mirror for your home concentrate on the shape, size and the style and try to give them equal weight. You might, for instance, want a long shape for the bedroom so that you can see what you look like when you get dressed. A smaller, oblong mirror will be better for areas like bathrooms and landscape style or round mirrors can look great in places like the living or dining room.
What you do need to do, however, is focus a little more on the placement of your mirror. A lot will depend on your décor and the kind of effect you want to achieve. It's worthwhile taking your time and shopping around before spending money. Make the right choice and your mirror will be a focal point to your room for some time to come.