With Halloween upon us, you may be wondering what to sustenance to serve, you will no doubt want some treats to wow your guests with. Look no further! We've gathered some of our favourite Halloween recipes from around the web (no spiders though!) to make your guests gasp – in a good way!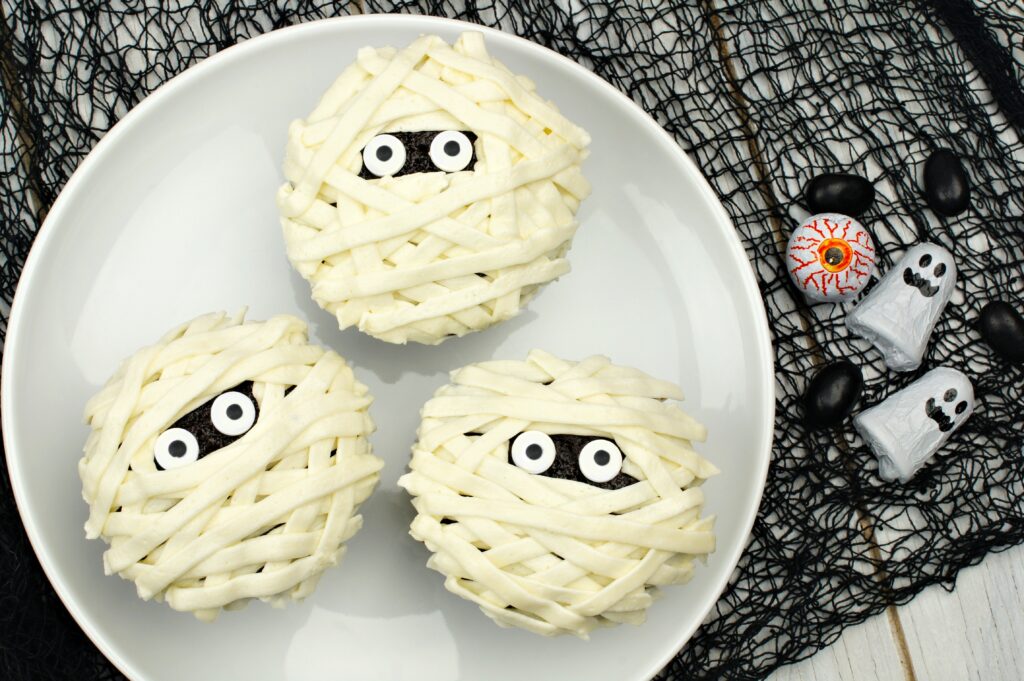 Mummy Cupcakes
With the ever-popular trend for cupcakes, why not bring a spooky touch to a Halloween party with these cute Mummy cupcakes? Not just for kids. These delicious chocolate cupcakes with the addition of some icing and little edible eyes to add an element of fun. No need to stick to the traditional white bandages – try slime green or spooky black for a twist! You can find a great Mummy cupcakes tutorial here.
2. Tortilla Witches Fingers with a Slime (Guacamole) Dip
This Halloween recipe is devilishly easy to make. Delicious freshly made slime (well, guacamole really!), served in a tortilla bowl with witches' fingers made from tortillas with half almonds for fingernails, to dip in. Ready in just 30 minutes with 5 minutes cooking time, this could be made to the size you want for a fun centre piece to the table. Let your guests dip a witch's finger…if they dare!
3. Mini Spooky Pumpkin and Feta Pies
Perfect for the kids and grown-ups alike, these cute mini pumpkin and feta pies are a great way to use up any pumpkin flesh from carving. Crumbly pastry (cheat if you need to!), roasted and the addition of creamy, salty feta combine to give a delicious taste.
4. Ghosty Halloween Marshmallow Cheesecake
Give your guests a trick and a treat with this showstopping Halloween marshmallow cheesecake. A spooky crumbly chocolate biscuit crumb on the outside and topped off with scary (but sweet and soft on the inside) marshmallow ghosts, this is sure to go down a treat. This can be made a day in advance if you are short of time on the day – the little ghosts sit in the oven for an hour and a half and the cheesecake just needs time to chill. Don't we all!
5. Ghostly Pizza
Have you ever eaten a mozzarella ghost and scary olive spiders? You will when make this fun and simple recipe. Either make your own pizza dough or buy ready-made bases and whip up this terrifyingly terrific treat in just 15 minutes, leaving you plenty of time to get ready and relax – maybe with one of the drinks in our next spooky offering.
6.Pick Your Poison – Drinks for all the Family
To help wash down the deliciously scary treats above, you'll need some frighteningly fun cocktails! From the curiously named Purple Potion Punch to a Melted Witch Martini (no witches were harmed in the making of this drink), you are sure to be able to rustle up some refreshments to get everyone in the spirit (do you see what we did there?). For the kids, how about some glow in the dark skeleton juice?
We are sure you will agree, these treat are good enough to raise the dead!