Christmas – the most magical time of the year – but when you sit down and start to think about all that needs to be done, a little worry can start to creep in. Will I get everything done in time? With a little forward planning and preparation, Christmas can be that magical time with as little stress as possible. In this article, we look at some ways in which you can plan ahead so you can arrive at the big day relaxed and prepared.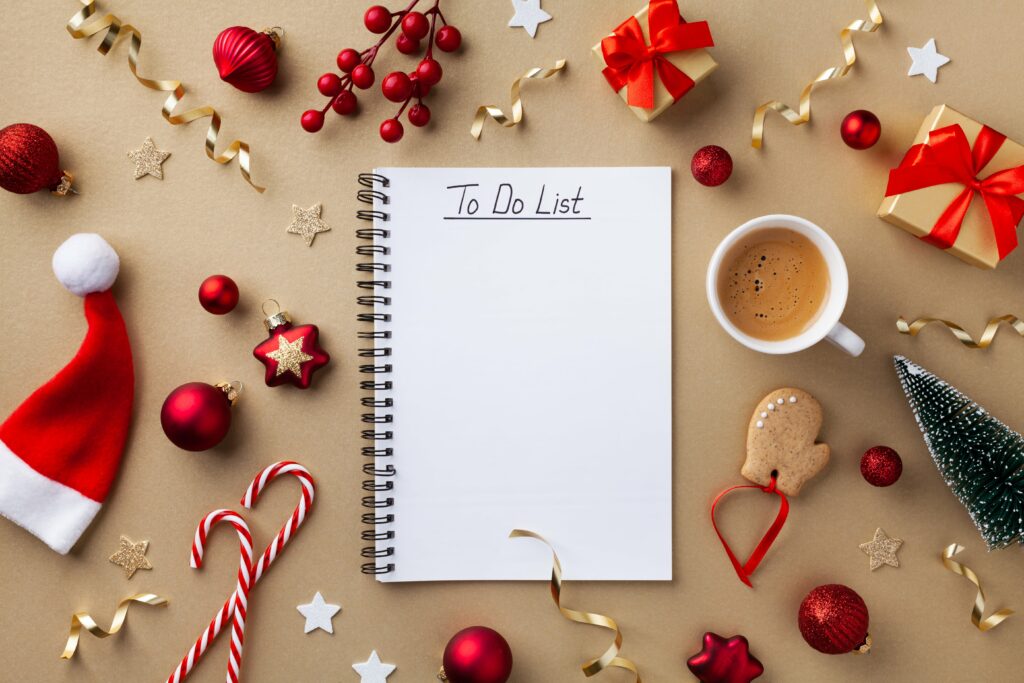 1. Plan your Christmas Budget
This will be fundamental to all Christmas plans. Write down on a piece of paper in sections all of the areas that you need to consider, such as:
Presents, wrapping and cards (don't forget the likely postage costs too!)
Food and drink
Work Christmas parties and nights out with friends
Outfits for the big day (including those wonderful Christmas jumpers!)
Decorations and the tree
Don't forget all the little ancillary items that soon add up, such as crackers, tableware and novelties
2. Get Your Gift List Ready
It's never too early to start to plan your gifts for friends and family for Christmas, especially with the deals of Black Friday nearly upon us. A little time now writing down everyone you need to buy for (remember teacher's gifts and your cleaner!) will allow you to put some thought into each gift rather than last minute panic buying and potentially forgetting someone!
Whilst you are thinking of gifts, start to compile (or even start writing…!) a list of those you want to send Christmas cards to. Make sure you have addresses to hand and your book is updated with any moves, name changes or additions that have taken place in the year. Royal Mail have published a guide to their last posting dates for Christmas 2021.
3. Decide Where You Will Be or Who Is Coming
Whilst you are in planning mode, start to think about where you will be for Christmas or who will be coming to you. If you are travelling, some thought should be given to the logistics of how long you plan to be away and if you need care for pets or plants. If you are hosting, consider where people will sleep and if you need any additional furniture to make everyone comfortable during their stay. This will also help in planning how much food and drink you need to buy (we all worry we won't have enough and end up buying too much!) and the size of turkey you need to order. Which brings us to…
4. Order Your Turkey or Christmas Dinner
Christmas turkey and other meats are available to order now from many retailers, such as Sainsbury's and Marks and Spencer and as booking slots are taken at lightning speed each year, ordering in advance can save a mad dash to the supermarket to try to claim the last turkey that might not be the size you need.
5. Give The Oven A Clean
Now might be the time to give the oven a little TLC in readiness for its mammoth cooking session on Christmas Day. Any grease build up lurking in the oven can ignite if not cleaned away, leaving the potential for a dangerous grease fires and damage to your oven. Not ideal at any time of year, let alone Christmas! Several oven cleaning products are available to buy to do the job yourself, such as Astonish Oven Cleaner or Oven Mate from John Lewis or simply let a professional do the job and employ the services of a specialist oven cleaning company.
6. Beauty Treatments
If you've parties to attend or want to look fabulous on the big day, don't forget to book your appointments well in advance. Salon's experience one of the busiest times of the year at Christmas and you could find that your chosen beautician or hairdresser is completely booked if you leave it too late. Enquire now, even if it means leaving the gap between appointments between now and Christmas just a little longer than normal to ensure you get a booking.
We hope our tips for getting ahead for Christmas help to alleviate some of the hectic stress this time of year can induce. You never know, by being prepared early, you might well enjoy the run up to Christmas too!