Usually, for Bonfire Night we would be advocating visiting organised firework displays, which not only tend to have a great deal of safety measures in place, but also have much bigger and longer firework displays than home events. However, this year organised events like this are not possible. Instead, in this article, we hope to give you some ideas for hosting a fun Bonfire night at home along with a few safety reminders.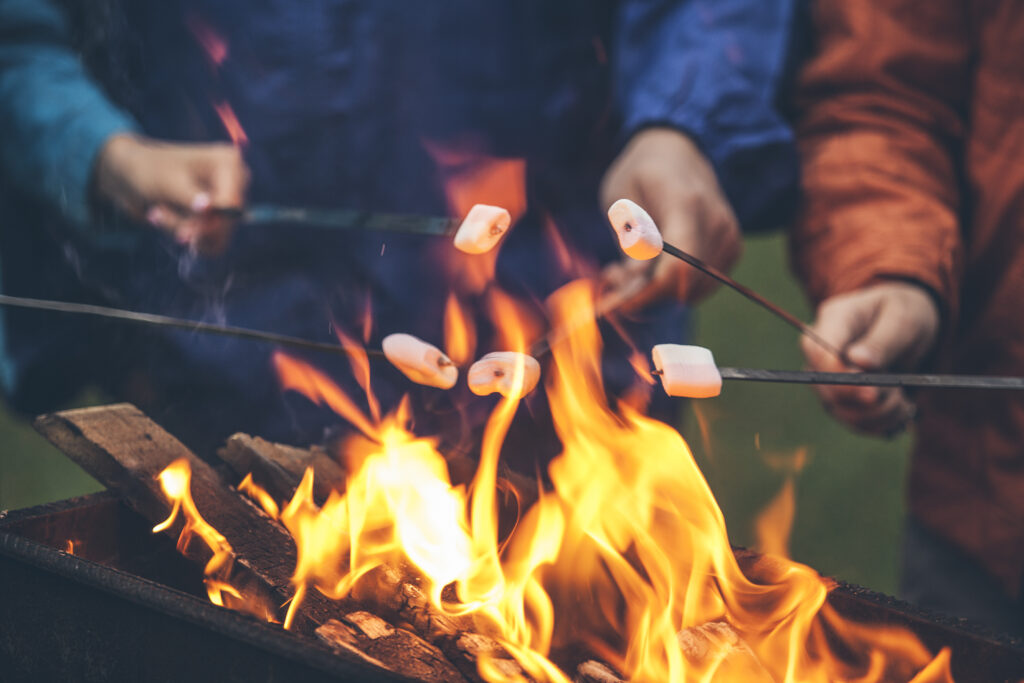 Be a good Neighbour
Fireworks are not everyone's cup of tea, be a good neighbour and let your immediate neighbours know that you are planning an event. That way if they have young children or pets, they can take steps to keep them safe and minimise load noises and flashes to help mitigate and avoid upset.
Collaboration with Neighbours
Fireworks are expensive and don't last very long, why not collaborate with other neighbours who are planning to let off pyrotechnics? Perhaps arrange to stagger your fireworks so that all participating neighbours can enjoy them from the safety of their own back gardens.
Bonfires
It is not advisable to build a bonfire in your back garden, especially if it is a small area. As a rule of thumb bonfires should be 5 times their height in distance from flammable objects. Bonfires can quickly get out of control and can easily spread to fences, sheds and even your home.
If you are going to have a bonfire, never leave it unattended. Check there are no cables or wires overhead. It is advisable to only burn wood, stay away from plastics, rubber (plastics and rubber can give off toxic fumes when burnt) aerosol cans (these can explode), flammable liquids, treated wood, metal and containers with paint or foam in them.
Ensure everyone stands well back from the blaze. It only takes one stray spark to ignite clothing! Keep buckets of sand on hand and it is a good idea to have a fire blanket just in case! Don't throw fireworks onto the fire and before lighting it, make sure that local wildlife or neighbour's pets have not made the pile of wood their home.
If a Bonfire is not feasible, don't worry you can still toast your marshmallows, why not use a firepit, chiminea or even your BBQ? The added bonus of using a BBQ is you can have sausages and burgers cooking away whilst everyone enjoys the fireworks.
Safety First
Make sure you and your family are safe by following the Firework Code. The last thing anyone wants is a trip to A&E!
Tips for Firework Fun
In daylight choose the area of the garden you are going to set your Fireworks off. Make sure this is away from fences and other flammable materials. It is worthwhile reading through the instructions beforehand as some fireworks, like Catherine wheels require a stake in the ground with a hook or a nail. Get this sorted in daylight hours so that you are ready to go. Make a schedule of which order you will set your fireworks off. It is traditional to end with a big bang – literally!
You might find it handy to have a torch (to sight your set up areas and read instructions) and a bucket of sand – simply throw the sand over anything that catches fire (also useful for spent sparklers).
To make the most of your evening try breaking the show up a little, let off a few fireworks and then break for hot chocolate and hot dogs, during another break you can give out Sparklers. Top tip: For younger children why not put the sparkler into a carrot, this gives them a much bigger base to hold and the carrot is unlikely to get hot unlike the metal of the sparkler.
Glow in the Dark Bubbles
Add the liquid from glow sticks to normal bubble mixture for glow in the dark bubbles. Ideally these should be used with a bubble machine as some glow stick liquids are toxic if ingested and can irritate the skin. Make sure you clean the bubble machine thoroughly after using it.
Bobbing for Apples
An old family favourite, all this game requires is a large container, fresh clean water, juicy apples and towels to dry off. The aim of the game is for the players to catch an apple using only their mouth. Hands behind back, face first into the cold, clean water and the taste of success comes when you successfully bite down on an apple and pull it out of the water. I remember this game fondly, to this day I don't think I have ever tasted a juicer apple than a bobbed one!
Baking Fun
There are so many Bonfire night treats you can make, from homemade toffee – try this delicious sounding recipe from Allrecipes, to edible sparklers and no Bonfire night is complete without toffee apples, fancy something a little different, this recipe from Tesco gives you 3 in one: toffee apples, some with sesame seeds and chocolate apples!
Firework Art
Enjoy the build up to bonfire night with some arts and crafts. Create a firework picture using a sheet of paper, various coloured crayons, a black crayon and a cocktail stick. With a heavy hand, colour the whole sheet of paper using various bright coloured crayons. Colour over these bright colours with a black crayon. Using your cocktail stick, scrape swirls and sparks and rainbows, the cocktail stick will remove the black crayon exposing the colours underneath and et voila a fun firework picture! For more crafty fun take a look at brightideacrafts.co.uk who have 10x firework themed ideas the whole family will enjoy.
We hope we have given you some fun ideas for a bonfire night at home. However you choose to spend your firework night, please stay safe!