December 14, 2015
Following on from a previous blog, Lifecycle of a landlord, we thought we might address this topic again, with some additional detail.
The four stages of the landlord lifecycle are:
Pre-acquisition – the research stage, doing your due diligence, and finding a property that meets your financial goals.
Buying the property – getting your finances in order and getting the sale completed.
Management of the property – the longest phase of the lifecycle where you are in a financial relationship with both the property and your tenants.
Exit – when you decide to sell up.
Looking at these phases in more detail and how Northwood can assist landlords:
Pre-acquisition
Our 85+ offices around the U.K. are always available to talk to landlords about tenant demand in the area and the types of properties that deliver the greatest yields.
We may even have suitable tenanted properties for sale, meaning that you earn income from Day One of ownership.
Buying the property
We will work closely with all parties to ensure a quick and smooth transaction.
You will need to ensure that you have the deposit and the correct finance in place (assuming you are not a cash buyer).  See our Check List for financing a BTL property.
We will advise on all aspects of the buying process and keep you informed throughout.
Here is a reminder of costs associated with buying a BTL investment.
These can range between £600 to £1500.00 for a typical BTL transaction, and can vary greatly depending on whether the property is freehold or leasehold or if there are any issues with the title.
Get a quote before appointing a solicitor or we can recommend a suitable solicitor for you.
The lender will charge you between £150 and £450.00 to send out a valuer to inspect the property to make sure it is suitable security for the lender. This is a simple valuation survey and does not include any structural examinations.
If you are unsure of the condition or value of your prospective property, you should instruct your own private valuation.
Your solicitor carries out searches for anything unusual or untoward, such as rights of way, environmental, water, or clauses linked to the use of the property.
Costs are usually included in the solicitor's fee, and unless there's something seriously amiss or time-consuming, estimate from about £300 to £500.
There are some small fees to pay for having the title registered in your name. Your solicitor will pay these and add them to your bill.
Stamp duty is a government purchase tax charged on all purchases of houses, flats, land and buildings. It can be a fairly hefty charge, so it's important to factor it into your budget.
Find out more about Stamp Duty >>> here.
**From April 2016, there will be a 3% stamp duty sur-charge on investment properties and second homes.
Mortgage arrangement fees
There may be fees associated with your mortgage. These can be quite substantial. They can be paid as a lump sum or added to the loan. Most BTL investors add them to the loan.
If you are using an intermediary to help you arrange your mortgage, they might charge a fee.
You should take out buildings and landlord insurance from the day of completion. While not mandatory standard buildings insurance may not provide sufficient cover for certain circumstances related to letting out a property.
Fixtures and fittings to get ready for rental
A new build property or one where the vendor has stripped everything bare may need "dressing" such as lampshades, hooks behind doors, towel rails, loo roll holders, mirrors, shelves, window coverings etc. Or there may be some small amounts of remedial works that need attending to. Allow £300 to £600 for this.
We have preferred handy men and builders who can undertake these works for you and will provide you with a quote.
Your property may need a very deep clean prior to letting, including carpets. Allow around £200 to £400 for this.
Your property will already have an EPC done as one is required for it to be advertised for sale.
However, you WILL need a Gas Safe Certificate. This can cost from £50 to £150 depending on who you use. Find a Gas Safe Engineer at the Gas Safe Register.
This recent testimonial for our Milton Keynes office from a new landlord:
"Catherine Wade was very professional to deal with, making sure I had all the information I need as a landlord. All appointments were kept and punctual. When the property was marketed Catherine made sure I was happy with the proposed marketing before being published. I always kept up to date with prospective tenants and dates for completion.The property was occupied quickly and I think this is credit to Catherine and Northwood for their realistic pricing and marketing. I am happy with Northwood's fees as I received a dedicated team member to act on my behalf. Definitely recommended".
Ownership of the property
This is the longest phase of the landlord's lifecycle and sees you in a financial and contractual arrangement with your tenants.
The 2015 Landlord Survey, just released by HomeLet, suggests that landlords look to hold an investment property for 10 years on average: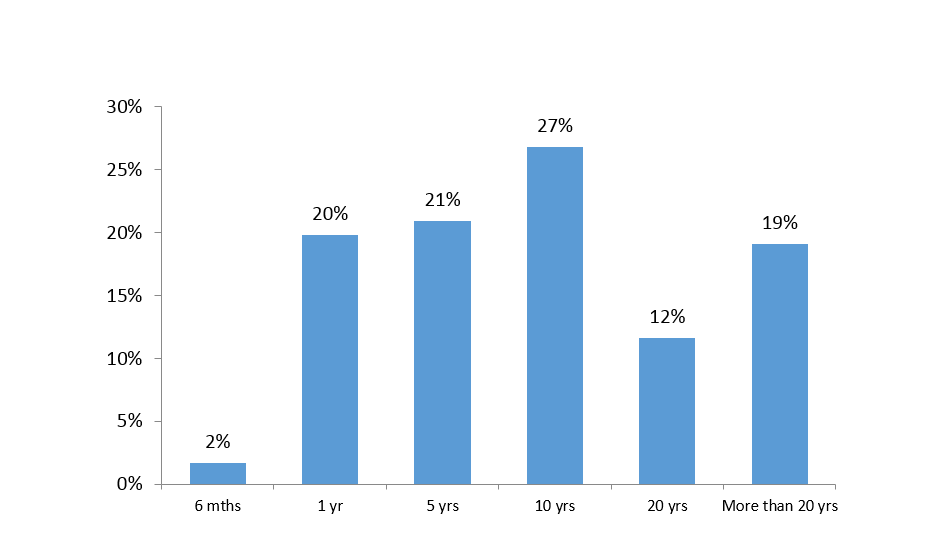 It's important to ensure that the property is continually tenanted, as voids can eat into your profits.
At Northwood, we have various levels of service ranging from tenant find, to fully managed, to our market-leading Guaranteed Rent service.
This recent testimonial from a landlord of ten years was given to our Northampton office:
"I have been letting my property out with Northwood Northampton for almost 10 years, and I have always been extremely happy with the service they provide. Katherine took on my property and promised me guaranteed rent, she explained very clearly what my role and theirs would be, and I have to say it has worked out perfectly.
Over the 10 years I have also dealt with other staff members who have dealt with maintenance on my behalf also and they have all been friendly and helpful. I can not recommend Northwoods highly enough".
Speaking to your local Northwood agent can help you decide which service is best for you.  You may wish to be "hands on" with a little bit of support, or you may wish to be completely "hands off" and simply "let and forget".
Find out more about our range of lettings and management services for landlords >>> here.
Exit
When it comes time for you to sell your investment properties, we have a ready-made database of landlords looking to buy, meaning that you can sell on a tenanted property.
The advantage of this is that you do not suffer a void period during the sales process.
This recent testimonial for our Peterborough office comes from a landlord turned vendor:
"We decided to sell our property, having rented it out through Northwood for six years. During that time, the property was never unoccupied and was always inhabited by very good quality tenants. Northwood were always quick to communicate any issues or problems and were always very efficient. At the end of the six years, our property was handed back to us in the same good order as when we began to rent it out.
Having decided to sell through Northwood, our property was valued sensibly, details printed and approved, and it was put on the market without delay. Colin was in charge of the sale and he did a brilliant job, especially considering he was confronted with several problems which looked to jeopardise the whole sale. However, Colin pulled out all the stops when our buyers were unfortunately unable to proceed, and he was quick to secure a sale with another purchaser. The sale went through without any further problems and with minimal delay, and we were very pleased with the outcome. He was very professional and provided an excellent service, which we could not fault, and showed much dedication in ensuring the best outcome for us.
It was a pleasure to deal with all the staff at Northwood, they were always very friendly and helpful. I would not hesitate to use their services for renting and selling again in the future".
Our M.D., Eric Walker, was recently asked by the DPS to share his views on the future of BTL.  Here is a brief excerpt from his guest blog:
"Towards the end of next year, landlords may well find an increase in the number of tenants looking for a home reducing void periods and raising rents through simple supply and demand. Interest rates remain artificially low and are unlikely to exceed 2% until 2020 at the earliest which will continue to mitigate the increased tax burden on mortgage interest."
So, in summary, Northwood can be your partner throughout the entire life cycle of being a landlord.   We actively seek to create long term relationships with our landlords, supporting them every step of the way.
Northwood is one of the largest and most recognised lettings agents in the U.K. and the leading supplier of Guaranteed Rent to give landlords complete peace of mind.
Find us on Twitter @northwoodUK or visit our YouTube Channel.
Posted in All posts, Buy To Let, Guaranteed Rent, Landlord