August 28, 2015
When buying a property as an investment, it is always a top priority to understand the tenant demand and tenant demographic.
If you are thinking of letting to families, then recent research suggests that you should consider buying a property within a good school catchment area, as this poll from property portal Zoopla indicates: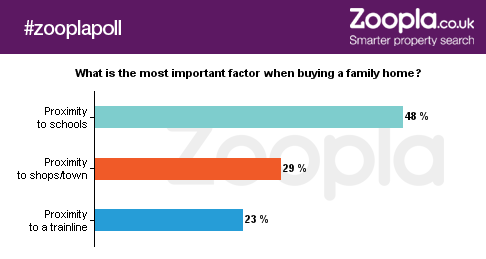 Heightened demand for properties in school catchment areas is reflected in both rents and property prices.
Recent research has suggested that proximity to a good school can add an average of £21K to a property's value.
To live close to one of the top 30 state schools in England, parents pay an average premium of £21,000, with homes near good schools selling for £268,000 compared to the average national house price of £247,000, said Lloyds, which based its figures on Land Registry data.
Competition for property around the highest-rated schools is most intense in the south-east, with house prices close to the top 10 state schools in the region being sold 27% (£72,314) above the average house price in their county.
Some 95% of buyers and 81% of renters in the UK would pay up to 25% more to live in a home in close proximity to a school.
Also, 38% of buyers and 42% of renters would take a lesser property to be within desired catchment area, the same survey found.
Surveying both those looking for property to purchase as well as those looking for a rental home confirms how important the school catchment area is for parents when they move home.
Indeed, the school catchment area was the top concern for tenants when choosing a property. Double the number of prospective tenants would put school catchment area at 30% over being in close proximity to a town at 15%, with this also ranking significantly higher than the desire to be near to a station at 17%.
Eric Walker, M.D. of Northwood commented:
"Having a very clear understanding of what your tenant wants is a vital part of the process of researching a successful investment property.  You are creating a product and you must be clear who will want to rent from you and ensure that you meet their needs.
It's interesting to see from this research that proximity to good schools is a more important factor than proximity to transport links.  It seems parents are willing to sacrifice their daily commute in favour of their offspring's education!
Renting to families with children in top schools means it is likely that you will have long term tenants who will put down roots and stay at least for the duration of the child's education.
Where there is high demand also means that rental and property prices will remain robust.
Conversely, if a school's OFSTED report declines, then this can also affect house prices and rental demand, so school performance should always be part of any landlord's due diligence process when researching a new property for investment".
Locrating is a website that helps you determine the profile of schools in your chosen post code, with performance data and other helpful information in a map format.
Rightmove have also understood the importance of this and have a search function that helps renters and buyers search for a property within a certain school catchment area.
This school search tool allows you to find the schools near any UK postcode and see details about a school as well as its performance. From each school you can access nearby properties for sale or rent on Rightmove.
With over 80+ offices around the U.K., your local Northwood office is always happy to advise on the local area and the types of properties that have high tenant demand.
Find your nearest Northwood office >>> here.
Northwood is one of the largest and most recognised lettings agents in the U.K. and the leading supplier of Guaranteed Rent to give landlords complete peace of mind.
Find us on Twitter @northwoodUK or visit our YouTube Channel.
Posted in Buy To Let, Landlord