October 23, 2014
This past weekend, a team from Northwood ran the "Run or Dye" race in Southampton to raise money for the Northwood Charitable Foundation.
This year the Foundation is supporting the Pancreatic Cancer Research Fund (PCRF) after we sadly lost our boss to Pancreatic Cancer last year, as our CEO, Gemma Goodson, explains:
With a survival rate of less than 3% past 5 years – the worst of all cancers, research is desperately needed to help fight this terrible disease.
The team were aiming to raise £1500.00 and have proudly exceeded their target.
Here they are just after the finish line: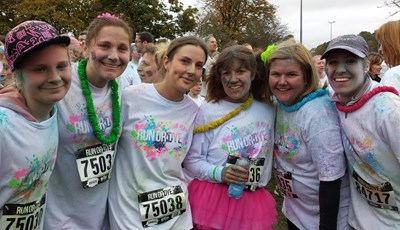 More than 3,100 took their marks at Southampton Outdoor Sports Centre for Run or Dye which involves running 5km through a series of "dye stations".
The mass fun run, taking place in in 150 cities across the world, takes its inspiration from the Hindu festival of Holi.
As you can see above, our team enjoyed the experience!  All donations very gratefully received on our Just Giving page.   

Northwood is one of the largest and most recognised lettings agents in the U.K. and the leading supplier of Guaranteed Rent to give landlords complete peace of mind.
Find us on Twitter @northwoodUK or visit our YouTube Channel.
Posted in In the community