January 24, 2014
When becoming a landlord, there is an important choice to make right at the start of your property career.
Are you going to self-manage or employ the services of a lettings agent?
The answer is as individual as you are.
Much depends on your personal situation such as how much time you can commit to managing your properties, how "hands on" you want to be, if your rental property is located near to where you live, and how comfortable you feel about being compliant to all the legislation that landlords must adhere to.
There is another factor that many landlords do not consider.
If you self-manage, who will look after your tenants and properties when you want to take a break and go on holiday?
The last thing you want is your phone ringing as you are relaxing on a beach somewhere, and hearing a tenant saying that their toilet is blocked!
A new report claims that seven out of ten landlords had to drastically change their plans in the past year to help out a tenant with a household repair.
The research from AA Home Membership shows that in the past year 20 per cent of the 200 landlords questioned had returned from a holiday early. Eighteen per cent said they had taken time off work and 16 per cent had left a wedding or other special event. However, around 30 per cent said they had done none of these.
"Being a landlord is a real commitment," says Phil Gee, Northern Operations Director at Northwood, "people shouldn't underestimate the responsibilities that come with letting out a property."
Whilst you might want to turn your phone off after 5.00 pm and when you go on holiday, unfortunately, you cannot do that as you have an obligation to your tenants to be contactable outside of office hours if there is an emergency or a maintenance problem that needs prompt attention.
So all this should be taken into account when deciding how you are going to manage your properties.
For most landlords who have professional careers and day jobs, they are likely to want to "let and forget". Their properties have been bought as a pension hedge or because savings are under-performing, and they just want to hand their properties over to someone else to deal with.
This is exactly the type of landlord who loves our Guaranteed Rent Service!  These landlords recognise that their time is important and has a value attributed to it, and their time is better used on other activities, not managing properties.   This same demographic of landlords also have busy lives and do not want their annual holiday marred by dealing with tenant problems.
Our very own 2012 survey of 1200 landlords revealed that 84% of them received less money than they thought from their monthly rental income due to unexpected costs, such as tenant arrears and having to take time away from their core employment to deal with tenants and the property.
Being a landlord can be more complicated and costly than some new landlords realise, so we've kept our Guaranteed Rent service simple: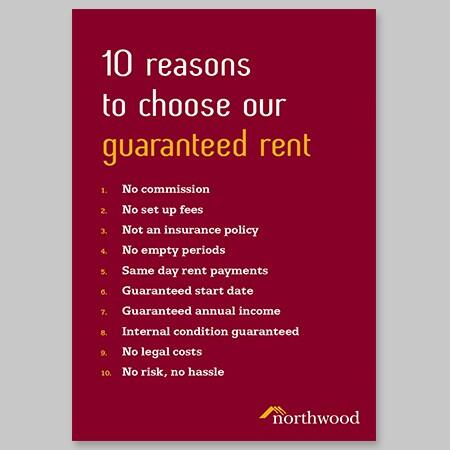 William Evans is one such landlord who saw the benefits of our Guaranteed Rent service.  He left a 5/5 review for our Torbay branch:
"When my mother went into residential care, we needed to rent out her property to provide an income to cover the care home fees. We were attracted by the Northwood Guaranteed Rental scheme because this seemed to provide all that we needed. I must admit that we were sceptical at first, but the team in the Torquay office explained the detail to us and helped to put our minds at rest. Now that the property is rented to Northwood, we can let them manage the property with no worries about the tenancy".
Our Guaranteed Rent landlords enjoy complete peace of mind – which is a big part of enjoying a holiday!  It can also ensure that novice landlords sleep easy at night.
At Northwood, we offer three levels of service for landlords and all our offices around the U.K. will be happy to sit down and work out which is best for you and your individual circumstances.
Read our blog about the True cost of being a landlord.
Read some more customer reviews of our Guaranteed Rent service >>> here.
Find your nearest office >>> here. 
Northwood is one of the largest and most recognised lettings agents in the U.K. and the leading supplier of Guaranteed Rent to give landlords complete peace of mind.
Find us on Twitter @northwoodUK or visit our YouTube Channel.
Posted in Guaranteed Rent, Industry comment, Landlord