July 24, 2013
Last Thursday, (18th July 2013), the BBC aired an hour long documentary titled "Meet the Landlords".
The programme attracted 2.4 million viewers as it attempted to portray a true and balanced picture of landlords and tenants clashing in the private rented sector. (PRS).
Inevitably, it focused on landlords and tenants with stories that would make compelling viewing and, unsurprisingly, these largely came from the lower end of the market although two of the landlords featured were renting to private tenants.
Featured Landlords included:
Jim Haliburton – the self-styled "HMO Daddy", who rents 800 bed-sits to housing benefits tenants  and claimed his portfolio was worth £26 million.
Anna – a novice landlord with just one property that she let out to private tenants when she moved in with her boyfriend.
Caroline – an "accidental" landlord who let out her family home to private tenants when the family were forced to move abroad for her husband's work.
In the case of all three, tenants racked up significant rent arrears and damage to the properties and several were evicted.
In the case of Caroline, the tenant accrued thousands of pounds of rent arrears and left a water leak unattended, and this resulted in holes in the ceilings of her London town house.  They also broke windows and trashed fixtures and fittings.
In Anna's case, the tenant accrued £7.5K of rent arrears and there was also some property damage.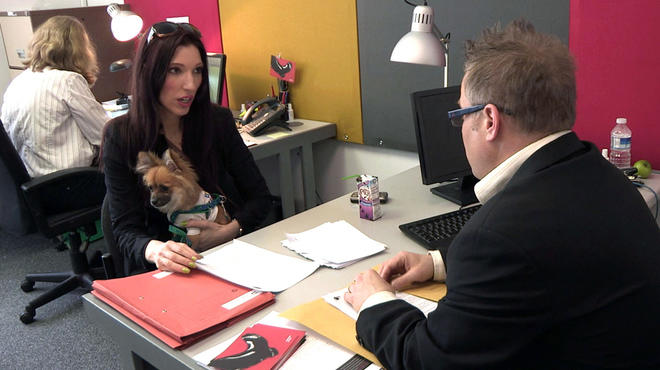 Caption:  Landlord Anna meets with Paul Shamplina of Landlord Action
Both sets of tenants were filmed being served eviction notices by Paul Shamplina of Landlord Action .  At the end of the documentary, Anna announced that she would be selling her property as she could not endure the stress of being a landlord and all the hassle of rent arrears and taking a tenant to court to get her property back.  She even considered the drastic step of selling her £1500 pedigree dog (pictured above)  to pay her mortgage!
Interestingly, both Anna and Caroline are the exact demographic of the type of landlord the Northwood Guaranteed Rent product was specifically designed for.
Anna is the typical "boy meets girl" landlord when two people become a couple an move in together  and one of them rents out their property as they cannot sell it, or wants to keep it in the background in case the relationship does not work out.
Meanwhile, Caroline was the typical "accidental" landlord who was forced to let out her property through life circumstances.
In both of these examples, the Northwood Guaranteed Rent product would have saved the landlords a huge amount of time, stress, and worry as it guarantees to pay the rent on time, every month, even if the property is void, or the tenant does not pay the rent.
It also covers the court costs if the tenant has to be evicted.
Watch our video here to hear an explanation of how the Guaranteed Rent product works:
We are proud and confident that the Northwood Guaranteed Rent product gives complete peace of mind to landlords and means that our GR landlords won't be featuring as a case study on the next edition of "Meet the Landlords".
Nor will they have to consider selling their beloved pets to pay their BTL mortgage!
Join Landlords discussing the programme on Property Tribes >>> here.
The programme can be watched in iPlayer >>> here.
Northwood is one of the largest and most recognised lettings agents in the U.K. and the leading supplier of Guaranteed Rent to give landlords complete peace of mind.
Find us on Twitter @northwoodUK or visit our YouTube Channel.
Posted in Guaranteed Rent, Industry comment